Ellen Hollman "Saxa" from Spartacus gets sassy with daggers
_______________________________________________
The Women of Californication
_______________________________________________
28-years old Mandy Moore and 32-years old Minka Kelly - BFF's and braless at the release Of City Of Style by Melissa Magsaysay.
_______________________________________________
and now for ewww gross news
36-years old Tara Reid Dating Fawaz Gruosi: Actress Reportedly Dating 60-Year-Old Jeweler
Actress Tara Reid, best known for her role in the "American Pie" franchise, reportedly has a new, much older beau.
The two were spotted holding hands and looking intimate aboard a massive yacht at the Lady Joy Boat Party in Cannes. The new couple partied alongside A-list stars such as Eva Longoria, Diddy and Alec Baldwin. And though Reid might be dating a much older man, that didn't curb her famous penchant for partying; she stumbled out of the party looking rough.
"I did party, but I wasn't breaking the law. It wasn't that big of a deal. It's not like going out and getting drunk is a crime, lots of people do it," she told the magazine. "It doesn't make me a bad person because I like to go out and have a drink. I've never missed a day's work."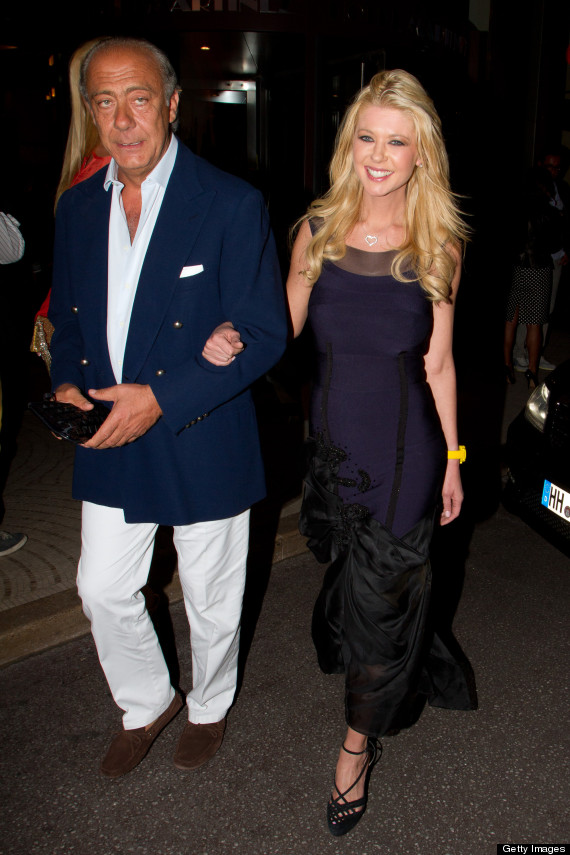 * The Italian Lothario is well known for providing free jewellery in exchange for you-know-what. He has been in one celebrity relationship averaging less than one year. He has never been married.
_______________________________________________
Hollywood loves sequels: MPAA to push SOPA follow-up in 2013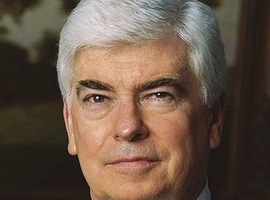 If a
few remarks
by Chris Dodd are to be believed, the next version of the Stop Online Piracy Act, whatever that might look like, will likely come in early 2013.
Dodd, the CEO of the Motion Picture Association of America—Hollywood's lobbying arm, as well as a major proponent and lobbying agent for SOPA—was quoted Saturday referencing his eagerness to directly lobby Congress for a new copyright bill on the MPAA's behalf.
"I can't say anything to them about this for another seven months, but I think my colleagues understand how important this is," he said in an interview with Variety.
Dodd has to wait until January to personally lobby members of Congress. For 30 years, until he assumed leadership of the MPAA in 2011, he was a U.S. Senator from Connecticut.
Ethics regulations
prohibit him from making deals with Washington until two years after his departure.
The only other hint Dodd left about the next SOPA is that the MPAA will no longer try and equate Web piracy with physical theft, a notion widely
mocked
online.
"We're going to have to be more subtle and consumer-oriented," he said. "We're on the wrong track if we describe this as thievery."
It's unclear if Dodd is interested in a much milder form of combating web piracy, or if he's interested in similar legislation that would simply be less likely to rile up the public.
He did, at least, note that he was caught off guard by the public's voracious opposition to SOPA and its sister bill, the Protect IP Act. "My learning curve about understanding this industry is still climbing," he said.
How much he meant to reveal about the MPAA's next legislative push is unclear. The organization refused to comment on this story.
* This Dodd cocksucker is one persistent mother. D-Day is upon us, guys. The Hollywood lobbyist will make his move after the November election. Obama told him to cool it as the President needs the young Net-savvy voters on his side. But the shit will hit the fan next year. That much is certain. It will be world wide smack down including sites hosting clips of nude celebs. If they can't close the file-sharing websites then the next best target will be the 'nest' (forums) that supports the file-sharers and peddles pirated files.
_______________________________________________
School's Almost Out:
Who's The Smartest Person in Porn?
Just when you think it's safe to go back being dumb, comes an article about a porn performer with multiple college degrees. Mark my words after the Leena Sky sortie with the Sun-Herald last week in which Sky claims to have a Bachelors, Masters and doctorate, mainstream websites will be in a dither comparing the brain power of current or past porn talent. It'll be like the G.E. College Bowl all over again.
Sky, who works out of Florida, captures my interest because she's a Philly girl. Raised on the "Main Line" by a psychologist mother, according to the article. That's Grace Kelly territory if you're not familiar with the area.
Very hoity-toity, very preppie. The men bear first names like Richardson, Thatcher and Carter. Among women you won't find a Velvet, Jade or Destiny in the crowd. So what's Sky, a licensed mental health counselor [she says] with that pedigree doing in porn, you ask?
Sky talks about having a dark side to her character and that she's always been fascinated by the sex industry. The poor little rich girl jumping to the wrong side of the tracks for adventure?
Sky boasts an undergraduate degree from Clemson but her master's and doctorate come from a very shaky online enterprise called Argosy University. Sky also talks about the need to pay off outstanding loans of $125,000. Which, at porn chick rates, she should be able to take care of that in a month.
Sky could be a very sharp cookie but my vote for the smartest performer in the business has to be Ron Jeremy.
Ron will not be mistaken for George Will nor will he bowl you over with his GQ finesse, but his bank account will. As porn's ambassador-at-large, Jeremy is constantly on the road, and one assumes it's on an expense account, depending who he's shilling for. Trust me. He is squirreling away every penny.
The funniest thing I remember about Jeremy is him telling me how he'd go through the obituaries of the city he was visiting and would convince the airlines to give him a grieving relative's discount to attend a funeral.
Ron is famous for being very cheap, and if you note a hairy arm reaching for your tri-tip in the buffet line, it's undoubtedly his.
Jeremy, who now endorses a brand of rum bearing his name, used to be a teacher. Before he got into porn, he was making use of his bachelor's degree in Education and Theatre and his Master's Degree in Special Education from Queens College in New York. Those degrees are for real.
Which invariably brings us to the Shy Love debate. Love's biog includes the fact that she graduated high school at the age of 16, then earned a bachelor's degree and two Masters Degrees. She got her Bachelor's degree in Accounting, then got her Master's Degree in Accounting immediately afterward.
Love became the comptroller of a multi-national pet pharmaceutical company in Fort Lauderdale, Florida. During her employment there, she apparently found the time to take night classes to earn her second Master's Degree in Taxation. By the age of 25, she was a certified public accountant. Seriously? With those credentials she'd be making 5 times the amount of money on the outside and be Secretary of the Treasury by now.
Remember T.J. Hart? I certainly do. Now that was a prime piece of porn ass. Hart supposedly graduated with a triple major in psychology, sociology and art, with a minor in early childhood education from the University of Colorado. She was also supposed to have been a member of the 1988 US Olympic swim team.
Not to be confused with the Marilyn Monroe character in Gentlemen Prefer Blondes, Lorelei Lee, 31, attended NYU as a graduate student having enrolled there in the creative writing program.
She's also a graduate of San Francisco State University and has been awarded a National Foundation for Advancement in the Arts "youngARTS Scholarship". However, she's best-known for her performances as a fetish and bondage model, particularly on pornographic site Kink.com, where she has also worked as a director.
Lee's current claim to fame is the script she co-wrote with Stephen Elliott for the film Cherry which stars James Franco, Heather Graham and Lili Taylor. The cards don't see an Oscar in the picture, but Lee's already got more to brag about than 10,000 porn stars put together.
Probably the most controversial of the smarty pants porn stars is AVN's 1995 Female Performer of the Year, Asia Carrera, simply because her back story is [A] too unbelievable and [B] she began pissing people off when she turned to the Internet to solicit money from her fans after her husband was killed in an auto accident.
Turns out that Carrera, a Mensa member with an astronomical IQ, apparently forgot that there was a life insurance policy.
She studied piano as a child, and performed at Carnegie Hall twice before the age of 15. By 16 she had taught English at Tsuruga College in Japan. Carrera won a full academic scholarship to Rutgers University. When she was 17, she ran away from home because she felt her parents put too much pressure on her to succeed academically.
Carrera was also married to Bud Lee, one of 500 different porn stars to have done so.
Here's some surprising factoids about Joanna Angel. She has a Bachelor of Arts degree in English Literature with a minor in Film Studies from Rutgers University. Like Asia Carrera, she enrolled in Rutgers University and earned her B.A. in English Literature and minored in Film Studies.
UK performer A.J. Bailey holds a Bachelor's Degree in Anthropology and studied art at St Andrews, the top Scottish university attended by Prince William.
While she attended the university and was in MBA courses with some of Prince William's friends, she got her first spread in Hustler magazine.
She's admitted that she spends a lot of her free time reading Tolstoy and Oscar Wilde.
"I quite like being called the world's brainiest porn star… it is a cliche that all porn stars are airheads."
Another UK performer Laurie Wallace graduated Summa Cum Laude with a double major in German and Political Science from Loyola College in Maryland and a double entendre in porn. Wallace later attended law school at George Washington University.
Wallace was also an intern on K Street, a center for various think tanks and advocacy groups located in Washington D.C.
She later moved on to modeling and porn, inexplicably, afterward. From her mainstream modeling career, Wallace appearances in Maxim, FHM, did many national commercials and over 300 romance novel covers.
Nina Hartley started working in strip clubs during her sophomore year of nursing school to support herself. She graduated magna cum laude from San Francisco State University's nursing school, and is a registered nurse.
Next time you're in a bar and the question comes up, the Bud Light draft is on us.
Annie Sprinkle is supposed to be the first porn star known to have earned a Ph.D. Sprinkle earned her doctorate in Human Sexuality from the Institute for Advanced Study of Human Sexuality in San Francisco, California.
Her work spans over three decades and is currently being studied at many universities throughout the U.S. in departments such as Women's Studies, Film Studies and Theater History. She's also a faculty member at The New School of Erotic Touch.
While Sasha Grey may not be the smartest woman walking the planet, her interviews will give you every indication she thinks she is. Call it brilliant marketing or call it bullshit, any porn chick who liberally drops the name Jean Luc Goddard or makes references to existentialism has to be pulling someone's leg.
_______________________________________________
Swingers: Inside the Secret World of Provocative Parties and Couples Who 'Swap'
Swingers, like polyester leisure suits, seemed to have their heyday in the '70s. But couples who openly swap partners for a night of passionate sex with strangers, are becoming a growing trend in a sort of new sexual relationship revolution -- and those who swing say the rest of us monogamists are missing out.
"Nightline" went inside the top secret world of swingers -- as guests, not participants -- to a highly provocative masquerade party at a hotel in New York City hosted by a group called Behind Closed Doors.
Forget the notion that swingers parties are full of middle-aged folks who are bored stiff by years of marriage. Behind Closed Doors selects its members based on attractiveness and age. The younger the better, and not everyone makes the cut.
The couples said they don't find anything wrong with monogamy, but they were looking for something more exciting and raw.
"Our best sex is with each other," said Sara of Eatontown, N.J., who was at the party with her boyfriend Michael. "We have pretty amazing sex at home when we're alone. When we come here it's a physical attraction, not an emotional attraction."
Michael, a 28-year-old construction worker, and Sara, 24, who works in a doctor's office, have been in a committed relationship for more than a year but they do "full swaps," complete with intercourse, but they refuse to kiss strangers.
"Sex is more of a primal, more of an urge-based," Michael said. "The kissing is more intimate so we like to keep that for us.
National surveys suggest as many as 60 percent of marriages involve cheating. One study conducted by the University of Washington Center for the Study of Health and Risk Behaviors showed that in the last two decades, the number of unfaithful wives under the age of 30 increased by 20 percent and number of unfaithful husbands under 30 increased by 45 percent.
Yet every swinger "Nightline" spoke with said they have a cure for that. They said their relationships are more spicy, more honest and more secure because they swap partners.
"People that are of a certain degree of attractiveness are probably looking to interact and swap partners with other people that are a certain degree of attractiveness so they are a good-looking person," said Nicole Cray, a self-described swing school instructor for Behind Closed Doors. "If you're not a good-looking person, it's probably not the right party for you."
Janel and Stevens of Edgewater, N.J., are both in their 30s and have been together for nearly two years. She manages properties and Stevens is a disc jockey. When they attended Behind Closed Doors' party, they engaged in so-called "soft swapping."
"So we do not engage in penetration," she said. "It's a comfort level. We flirt, we hug, we kiss, but there's nothing much further than that."
Janel said swinging works for her and Stevens because it's something they can do together.
"Think about traditional relationships and how much cheating and lying and deceiving there is how much more disrespectful is it when you do it behind your partner's back," she said. "We're sharing something."
Swingers are part of a change that researchers have noted in younger couples' attitudes toward infidelity in recent years. Younger generations are marrying later, and come to the marriage with habits acquired over years of dating -- among them, sleeping with other partners after the initial attraction wears thin.
Sara and Michael, another couple at the Behind Closed Doors party, said they got into the swinging scene because of a Super Bowl bet they made with each other -- if the Patriots won, Sara earned a threesome with another guy, and if the Giants won, Michael got a threesome with another girl.
"Needless to say the Giants won and I had a week to come up with a girl, found a girl, had an awesome experience and ever since then, every weekend, we've been meeting other couples," Sara said. "We're not the jealous type, but we believe that 'sharing is caring.'"
It usually costs about $200 for a ticket to one of Behind Closed Doors' parties and there's an etiquette involved. Only single women or couples are allowed inside, but no men who are flying solo.
"Women set the rules," said Nicole Cray of Behind Closed Doors. "Men can talk about what they want but women make the decision about what they want to do and don't want to do."
And women aren't just setting the rules, they are driving the explosive growth of the swinger culture on the Internet.
Five years ago, AdultFriendFinder.com, a website that helps swinging couples connect with other couples for a monthly fee, had 5.4 million swinger subscribers worldwide, and now the company said they have more than 10 million. Ryan Hunt, the community manager for the website, said the majority of the traffic to the site is coming from women.
"This is a new generation of swingers," Hunt said. "Usually people get into swinging between 35 and 50+ but we've seen people who are now more comfortable with being online and having kind of a more sex-positive attitude towards things that want to explore swinging at a younger age."
Another website, AshleyMadison.com, lists 14 million people in 22 countries who are looking to have extra-marital hook-ups. Behind Closed Doors also has a website, SchoolofSex.net, that serves as a social network for members to meet each other online.
But there is a reason why the Bible includes a commandment against coveting thy neighbor's wife -- we might be biologically hard-wired to have several sexual partners. Helen Fischer, an anthropologist who has studied sex and adultery for years, said she has lived in 42 countries and there is "not a culture in the world that is not adulterous."
"We are predisposed to eat meat. We are predisposed to fear when an animal is running towards us and we probably are predisposed towards adultery," she said.
Another couple who attended the Behind Closed Doors event was Cassie and Mike from Bristol, R.I. They have been married for four years, both have kids and successful careers -- Cassie runs a hair salon and Mike is a solutions engineer. They look like your next-door neighbors, but they spend the evening scoping out the room for strangers that seem approachable for sex.
"I think the best way to describe [swinging] is 'dating as a couple,'" Mike said. "We find it erotic to go out and meet people that have similar interests and similar sexuality."
"Just makes it hot," Cassie said. "Swinging is not love. I'm in love with my husband and it just enhances out sex collectively afterwards."
"There's a lot of branches on the swinging tree, so you have to figure out which branch do you swing from," she added.
_______________________________________________
The "Naked Surfer" rides waves for the environment
32-year-old New Zealander Marama Kake, known locally as "the naked surfer" in Sunshine beach – Queensland, Australia, hits the waves in the buff in promotion of sustainable surfing.
"I'm not out there to get everyone to look at me, I just love the sensation and simplicity of surfing in my 'sustainability suit"
You've got to appreciate the "naked surfer's" commitment to simplicity, not only surfing in her god given curves, but riding "green boards" as well. Her quiver includes a timber alaia designed for her by master craftsman Tom Wegener and an another eco-friendly board from the D'Arcy factory on the Gold Coast of Australia.
Marama, is a former student of politics and psychology who has worked teaching English to children in Japan. Naked surfing is part of her effort to gain support for a new environmentally conscious network called Project 13.
Naked surfing is not only a good medium to spread environmental awareness, it just might be the best way to bring peace to crowded surf breaks, "It changes the mood very quickly and cuts through the aggression that is finding its way to busy point breaks. It's a sure-fire cure for wave rage," marama joked.
Critics who disapprove of taking the ol' birthday suit for a dip in the ocean will be happy to know that Marama does take precautions to out in the surf, "I cover up, or paddle away, if I am anywhere near children and have never had any trouble with lifeguards or authorities and I've been doing it for years in Australia and New Zealand."
Marama's message? "get naked, get sustainable." I say, "Why not?"
_______________________________________________
You have read this article Californication / Ellen Hollman with the title stars, sex and nudity buzz : 05/23/2012 [2]. You can bookmark this page URL http://renelyons.blogspot.com/2012/05/stars-sex-and-nudity-buzz-05232012-2.html. Thanks!