36-years old

Alicia Witt

briefly topless in Joint Body (2011) - release date July 24th.
Description of the scenes from Mr.Skin site:
(0:16) Alicia Witt is on stage as a stripper. At first we see her from the back in panties and a bra. The bra comes off and we see a little right side boob. Then we see her face as she crawls over to a guy. Then just her legs as she put them on his shoulders.
(0:30) Alicia Witt is in her bra and panties in the dressing room. One of her co-workers has her breasts exposed until she puts her bikini top on. Then we see Witt on the floor in a T-shirt and panties.
(0:33) Alicia Witt is in her bra getting ready for a date.
(1:16) Alicia Witt begins to make love with a guy. She is standing up and takes off her bra and from the side we do get a brief glance at her breasts. At first it does look like a strand of hair and his finger substitute for her nipples but there is a very brief glance as she starts to pull away a little.
Alicia Witt is a mysterious figure in showbiz world. She has successfully kept her professional life separate from her personal one. But it also allowed some persistent rumors to swirl around her particularly about her actual sexual orientation (very cozy BFF relationship with one Shanola Hampton - nasty innuendo on my part of course…). Alicia is not really a nudity dodger. Unlike her Canadian counterpart and to a certain extent doppelganger Katharine Isabelle, Alicia is willing to perform upper frontals as long as her nips are covered. She has become more open towards nudity like most actresses in their mid-thirties who're still actively involved in the biz. Her cool detach demeanor partly stems from a reportedly high IQ bordering on genius level. Alicia is now on a hot streak appearing in pivotal roles in Raging Bull II and Playdate – all scheduled for 2013 release.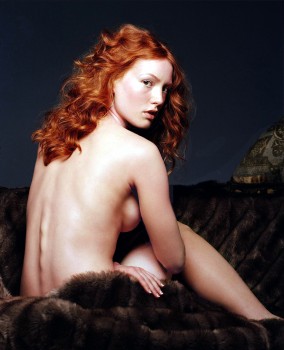 __________________________________________________________
TheWrap.com talked briefly with Showtime President David Nevins about the Emmys, why he thinks the network will have more actors in competition next year, and a "revitalized" upcoming season of "Dexter."
TheWrap: Congratulations. Do the nominations today reflect a particular strategy for Showtime paying off?
Nevins: Thank you. The strategy is simple: to make great television that's provocative and not boring. There's no grand strategy beyond that. ... "Homeland" is a show that's very personal to me. It feels like we've really broken through. It's great to be recognized in all the big categories.
How much do nominations help you?
It's important for these first year shows. We're in 21 percent of the homes in the country. It's hard to get our younger shows noticed. ... We build from here. "Homeland" and "House of Lies" are going to be mainstays for the foreseeable future for this network. And we've got two new shows we're really excited about, "Masters of Sex" and "Ray Donovan." We're about great acting and great writing, and creating roles for actors. Maybe you'll see ["Ray Donovan" leads] Liev Schreiber or Jon Voight or ["Masters of Sex" leads] Michael Sheen and Lizzy Caplan getting nominations.
Were you surprised by Don Cheadle's nomination?
I was hoping for Don Cheadle. That was the big one. I wasn't really surprised. I kind of looked at that category and thought he had a real shot.
Was it bittersweet to have "Homeland" make it into the Outstanding Drama Series race only to have "Dexter" exit the category?
From her recent Playboy shoot on Twitter, Sherlyn Chopra has posted nude images. So we talked about how Sherlyn Chopra has got an invitation to 'honour' the cover page of the 'Playboy' to which she immediately gave a nod to and packed her bags to go for the shoot in US.
In this regard, now, for those who have been anxiously waiting to catch a glimpse of Sherlyn's nude picture from the shoot, here we bring the pictures that has the lady posing with absolutely nothing on her body! In this context, the lady posted behind the scenes photographs of hers with the crew while posing nude for the magazine. But, strangely, after a few hours, Sherlyn decided to remove the pictures from the web.
While, the Bollywood star temporarily displayed the photos on the social networking site, before Twitter authorities took them down. Despite the Twitter ban, the photographs showing a nude Chopra have leaked widely across the internet.
Starlet Sherlyn Chopra has gone on to make history as the first Indian woman to be on the cover of Hugh Hefner's Playboy magazine. Now, She will also be featured in a spread (forgive the term) inside the magazine! However, the first Indian woman to be featured in Playboy was model Katy Mirza who was a Playboy Bunny in the 1970's. Sherlyn expressed her excitement and said that she felt proud to be the first Indian to do it, and added, "The youth is racing towards liberalisation, and that's why being unconventional in your choices is no longer a taboo.
If only Sherlyn could help in clarifying how being unconventional and liberal translates to taking off one's clothes for the world to see, it would help some confused minds.
Woman Gets Naked In Public To Protest Book Pirates
In probably the most outrageous protest yet against piracy, an author has ripped off her clothes in front of a government palace. Brazilian writer Vanessa de Oliveira shocked the citizens of Lima, Peru, with nearly everything she has. "I'm doing this for my book so it is not pirated anymore anywhere in the world," the redhead said, adding that her latest publication is based on her experiences bedding nearly 5,000 men.
The extremely stiff men behind some of the biggest entertainment companies in the world might think they know to draw attention to piracy issues, but when compared to the efforts of controversial writer Vanessa de Oliveira this week, they just aren't a comparable hit with the youth.
Oliveira, the author of several books, was transported to the Plaza de Armas in Lima, Peru, in the back of a truck Thursday. Once in place she did what the gentleman of the **AA's have dreamt about so often but have never had the courage to do.
She jumped out, stood in front of the government palace, and peeled back a long dark coat revealing a lacy black "dental floss" (blame Google translate for that term) struggling to cover a tiny portion of her lower body.
Words daubed across her chest and back in red ink, presumably to draw attention away from her black pull-up stockings, shouted a firm 'NO TO PIRACY'.
"I'm doing this for my book so it is not pirated anymore anywhere in the world," Oliveira explained, attracting the attention of the police.
"A country is made with culture, with books. When people pirate books culture is in danger. [Peru] is the first country where I see this," she added.
Oliveira spoke about her earlier books including "100 Secrets of a Lady in Waiting" and "If He Cheats On You, It's Your Problem", a book filled with tips targeted at women whose partners screw around.
And Oliveira apparently isn't writing from a position of ignorance either – in fact it appears she's creating her own market. She admitted that the books had been written from her personal experience working as garota de compañía (a girl of company) in which she had sex with 5,000 men, proving that you can indeed charge for stuff normally available for free.
Eventually though all good things had to come to an end. Oliveira put her clothes back on, got in the truck and drove away, probably wondering how rich she'd be if each of her night-time conquests had purchased just one copy of the book for their wives instead of pirating it.
And for those cynics thinking that this was just some sort of sexually motivated anti-piracy publicity stunt to sell more books, wash your dirty minds.
The fact that Oliveira is appearing today at the Chamber of Commerce in Lima with a presentation titled "Seduce Clients" has absolutely no connection to what happened Thursday.
Moving pics or it didn't happen? OK, go on then..
__________________________________________________________
Destiny's child
She has been crowned Miss Liverpool, Miss Teen World, Miss Teen Great Britain and Miss England (runner-up).
Amy Jackson made her entry into the South Indian cinema with the movie Madharasapattinam and debuted in Bollywood with Ekk Deewana Tha, opposite Prateik Babbar. Jackson, who is now working on her next movie Thandavam opposite Tamil superstar Vikram, speaks to Kanika Tandon about how fate brought her to India.
What do you think is your unique selling point?
What works in my favour is that I don't take myself too seriously. Everything up until now has happened so amazingly and I haven't had to worry about anything; it has all just fallen into place. I think that if I continue with a relaxed but focused attitude I will hopefully make my mark here in India.
Modelling, or acting — what do you prefer?
I had no idea I wanted to act until the opportunity from South Indian director A. L. Vijay came along in 2009. Now that I've completed two movies, there is nothing that comes close to seeing the finished product on the silver screen. So definitely my acting career beats modelling.
Why did you choose to work in the Indian film industry?
It chose me. I had no acting experience and no idea about the Indian film industry. India always fascinated me but I'd never visited it in my life, until I started shooting for Madharsapattinam. It is literally fate that I'm here!
How did Ekk Deewana Tha happen?
After the release of Madharsapattinam in 2010, A. L. Vijay, the director, took me to meet Gautham Menon. I was very nervous because Gautham is huge in South India and I wasn't sure why he wanted to meet me. It turned out that he had a Tamil movie project in mind and thought I'd suit the role, but a week later he wanted me to fly to Chennai for a look test for his Hindi project. Needless to say I went and after the shoot he said to me, "How do you feel about becoming a Bollywood heroine then?" I was ecstatic! I had no idea I wanted to break into Bollywood, until it actually happened.
How different are the Tamil and Hindi film industry to work in?
If I'm completely honest I can't say that there was too much difference. For both movies, I've had a South Indian director (Vijay and Gautham) so there was no change there. In both movies, music played a huge part with A.R. Rahman composing for Gautham's Ekk Deewana Tha and A.R. Rahman's nephew, G.V. Prakash, composing the music for Vijay's Madharsapattinam. The only thing I have noticed is that I had a lot more dialogues and heavy scenes in my Hindi project but both movies were performance-based ones. What I can say is that the climate was much better in Mumbai compared to the 42 degree heat we shot in Chennai for my Tamil debut!
What do you like about India?
With Madharsapattinam and Ekk Deewana Tha I got the chance to travel all over India. We shot in Agra, Mumbai, Chennai, Bangalore, Mysore, Delhi, Kerala, Goa, Trivandrum, Madurai, Mumbai, Pondicherry — it was fabulous. What I like most about India, is that in one country you have so many different things to see and experience. I could see the traditional Indian culture in places like Kerala and Madurai and the new metropolitan vibe in cities like Delhi and Mumbai.
Have you learnt any Hindi words?
I've learnt quite a bit of Hindi over the last few months. I've made it my New Year's resolution to work on my diction and Hindi for upcoming projects and hired a Hindi tutor to help me.
__________________________________________________________
Time flies.......
__________________________________________________________