Like my dad used to say 'the pie nobody wants to eat'. And today I'm forced to eat huge humble pie after my predictions (and hopes) of seeing a first-timer performing a full frontal scene goes horribly wrong. Don't get me wrong. Jessica Clark was out of this world beautiful on last night episode of True Blood but.........
...........I'm just carping at this point. Fuck! Another muff diver. BTW, she is the second East Indian-descent actress to appeared nude on True Blood. To be accurate it's not exactly a full frontal per se. Pubic wig have become part of cinematic nudity nowadays and authentically patched together to fool even the experienced eyes. But apparently True Blood guys couldn't get their hands on something more convincing like the one on Spartacus (Katrina Law) or Sarah Silvermans' in Take This Waltz.
According to wiki : Jessica Clark is a British model and actress of Indian and Nigerian descent. Jessica is openly lesbian and married to Lacey Stone, a New York City professional trainer. They are known for being the hosts of the Vlog Lesbian love, at afterellen.com. She recently played a central role in A Perfect Ending, a 2011 lesbian film directed by Nicole Conn. She plays the fictional vampire goddess Lilith in True Blood.
http://femmeonamission.com/2011/08/13/10-famous-femme-lesbian-and-bisexual-women-of-color/
Vamp Goddess Lilith of HBO's 'True Blood,' how Jessica Clark keeps that body
The Sanguist movement that follows the Vampire Bible worships Lilith as their Vampire savior.
We finally met Lilith of HBO's "True Blood," who was fully frontally nude last night on the HBO series.
It takes a confident actor to carry off any nudity, let alone a frontal nude scene.
Making the most memorable debut in HBO's Emmy-Nominated and critically acclaimed series "True Blood" history, Jessica Clark emerges fully nude from a pool of blood in front of Eric, Bill and the Authority as "Lilith," the mother of all vampires and the first earthbound vampire who was created in the image of God.
Clark is a mixture of Nigerian, Irish and Indian bloodlines, and is no stranger to the runway walking in shows alongside Naomi Campbell for everyone from Hermes to Julian McDonald.
A Brit native, Clark has appeared in multiple coveted national campaigns for L'Oreal, Aveda, Redken and Intimissi. She moved to New York to pursue acting under the tutelage of acclaimed acting coach Susan Batson, who has worked with Hollywood heavy-weights Nicole Kidman, Tom Cruise, Juliette Binoche and Jennifer Connelly.
Clark was also the love interest in Usher's award winning music video "Burn" and most recently for her role in ABC Family's "State of Georgia."
How she got and keeps that body? Clark is an avid runner who regularly runs half and full marathons, and she practices Wushu, a full-contact sport derived from traditional Chinese martial arts, and she practices yoga too!
_____________________________________________________
NC-17 Queen Gina Gershon on Killer Joe and the Lengths She'll Go to Make You Forget About Showgirls
From between her shapely, spandex-clad legs, Gina Gershon greets me with an upside-down smile. It was her idea to meet at this yoga class in Tribeca, but she arrived late, so our first encounter takes place as we're both doubled forward in ­uttanasana. For the next hour, I stand directly behind her as she contorts her body into the bendiest of positions. Each time the instructor tells us that, if we feel the urge, we may try a deeper, more complex pose, Gershon goes for it. Picture her raising her arms overhead with the dramatic pizzazz of the conniving, bisexual Las ­Vegas dancer she played in 1995's Showgirls, her most famous role.
The class proves to be the one shot of stress relief in what quickly becomes a very hectic morning. After yoga, we have to grab a cab back to her apartment because she rushed out without her phone. Soon we're downing eggs at the Greenwich Hotel, where we're supposed to be discussing her biggest movie part in years, as the trailer-trash target of an assassination plot in the film adaptation of Tracy Letts's very dark comedy Killer Joe, starring Matthew ­McConaughey as the sadistic title character. But today is also her deadline to turn in the final corrections on her new book—with perhaps the least subway-reading-friendly title ever—In Search of Cleo: How I Found My Pussy and Lost My Mind. (It's the true story of the hunt for her runaway cat ten years ago.)
"I'm doing a rewrite in one night. Of course I'm going to make mistakes. And whenever I complain, everyone's like, 'Welcome to the book world,' " she says, fretting that critics will think she's a "dumbass" when they see typos in the uncorrected proofs. She and her brother co-wrote a 2007 children's novel, Camp Creepy Time, about a 13-year-old who discovers his summer camp is run by aliens. But this is her first book for adults, and she's nervous. "I'm not trying to be Dostoyevsky or pretend I'm this amazing writer. I'm not," she says. "People are probably going to say 'Stick to your day job' anyway. So if it's going to be in my voice, I really want it to be in my voice. And the grammar should be correct."
Gershon's connection with Cleo is so close, she says, that when she got fake blood in her ear while filming a fight scene for Killer Joe in Louisiana, Cleo ­developed a mysterious ear infection back in Los Angeles. She wrote an album about him—yes, Cleo is a boy—in 2007 (she sings and plays guitar and the Jew's harp) and a musical revue. "People kept telling me I had to make it a book because no one believed it was a true story," she says. Especially the part when, on advice from Ellen DeGeneres's animal psychic, she was crawling through backyards in West Hollywood at six in the morning with a bottle of her own urine, leaving a trail for Cleo to follow home, and a homeowner recognized her as "that lady from Showgirls."
She seems at peace with being best known for a movie she did seventeen years ago in which she danced naked and hit on Elizabeth Berkley. "I'm definitely a character actress," says Gershon, who frequently forgets the names of the movies she's been in, many of which have gone straight to DVD. When I mention that her IMDb bio describes her as "one of the leading icons of American camp," she says, "That's nice. I'll take it." She gravitates toward outsize characters, but adds, "It's not like I'm getting offered these big huge romantic comedies that are surefire hits." Her recent stint as a chic fashion-showroom owner on HBO's How to Make It in America was the first time she can remember portraying "a cute, normal girl—not crazy or anything," she says. "I don't have anything against playing a quote-unquote normal person. I'd like to play the girl next door—who's secretly schizophrenic." She laughs. "The characters have to have a little twist, or else they can probably find someone else who's better at playing them than me."
Gershon's other recent work includes comically rough sex with Denis Leary on Rescue Me and the role of Fabia, a cosmetics mogul and plastic-surgery victim, on Ugly Betty. "I loved looking like I'd had this really crazy face-lift. I kept thinking, People are going to think, 'Oh, wow. She really went there.' Or, 'She should get a different doctor,'  " says Gershon, who, incidentally, does not look like she's had a face-lift. Cosmetic surgery is a regular concern for actresses in Gershon's peer group, but she's not into it, she says. "I don't want to judge anyone. But it makes me a little sad. We're living in a Twilight Zone period when you see these 20-year-old girls changing their faces. Ironically it's making everyone look older."
Public records say Gershon is 50, which she'll neither confirm nor deny. "This whole age thing, I don't buy into it," she says. "I went to Papua New Guinea and met people who had no concept of their birthday and therefore no concept of age. I believe you can choose your age and that if you concentrate on your number, you can feel whatever age you think you are. If people ask, I say I'm 73. But as an actress I could probably play from 15 to 102. That's what they have makeup and lighting for."
Neither makeup nor lighting is on her side in Killer Joe; she's jarringly unglamorous. "It's more fun to look super-gnarly than to have the pressure of looking beautiful," she explains. "I don't like doing things halfway." So she gained weight: "My character lives in a trailer and drinks beer and eats all the time. That wasn't fake—that double chin was mine, babe."
She was also suffering from ­undiagnosed poisoning: While gorging on oysters on the shoot in New Orleans, she accidentally ingested a solvent used to disperse the BP oil spill. "My face was blowing up, and I kept thinking, Wow, I must be so Method. It dissipated after three months, but my face had these lumps in it. Luckily I was playing someone who could look like shit." When she saw herself onscreen for the first time, though, she says, "I was like, 'Oh my God. I'd better start losing weight immediately. I have to look okay before I do press, because people are going to think, Oh, wow, she really let herself go.' "
Killer Joe marks her triumphant return to NC-17 cinema (Showgirls was the first movie with that restrictive rating to get a wide release). In the first scene, Gershon answers the door of her trailer naked from the waist down. "It's the middle of the night, and she'd been drinking, and she was sleeping, and she went to the door," she says. "I don't think pants entered her mind. She's kind of like a feral animal to me." But the scene that caused the most controversy when the movie debuted at film festivals last fall was the one in which her character is forced to fellate a fried-chicken drumstick held at McConaughey's crotch. Gershon cheerily tells me that her only request was that the chicken come from Coop's, a legendary French Quarter Cajun joint. "I just wanted to make sure it was really good chicken," she says. "Thank God I'm not a vegetarian." She turned down the role in the Off Broadway production of Killer Joe in 1998 because she found the act so disturbing. So why do it now? She shrugs. "Part of doing Killer Joe was like, 'After this movie they won't ask me about Showgirls anymore.' "
As we're wrapping up, Gershon receives an e-mail from her publisher informing her that her deadline for corrections is noon instead of two. "They're giving me an anxiety attack," says Gershon, scribbling on a manuscript. "It just makes me want to cry. They're fucking stressing the fuck out of me." When I check in with her by phone a few days later, though, she's calmed down. She's preparing for a vacation to Ibiza with her live-in boyfriend, soccer star turned entrepreneur Bobby Dekeyser.
Her next project is Harem, a series she's developing for Starz and the BBC about the rise and fall of the Ottoman Empire. "There was a period of time called the Reign of Women when women were running the country. It's going to be sexy and fun," she says. She got the idea for the show while wandering through palaces in Istanbul during the shoot for a movie whose name she can't remember. "My life goes into weird realms," she says. "If you're open to it, magical and strange things will come into your life. And I'm definitely open to it."
_____________________________________________________
Minka Kelly
Sex Tape Shopped
TMZ Polls Reveal Contradictions Following Shootings
Producers … stop making violent flicks, 80% (of 242,700)
Worse for children, Movie Violence 77%; Movie nudity 23% (246,239 votes)
Suspect, Mentally deranged 59%, Evil 41%
Suspect, death penalty, 69%
Those voting may indicate an alteration in American values. Once upon a time in the 1980s, movie contents pushed the limits on bloody gore, naked bodies, drug use, and extreme profanity. Some filmmakers wanted to test limits; others, believed the explicitness was necessary to artistically tell the story. Three 1966 films --- Edward Albee's "Who's Afraid of Virginia Wolfe," "The Pawnbroker," and "Blow Up" were the first mainstream U.S. films which contained nudity and profanity.
Europe which has a non-gun oriented culture, has a reputation for tolerating nudity but not violence. Hence, the export of European art films that in the U.S. often were stamped as obscene. Further, certain European over-the-air television occasionally contain nudity; however, the use would be essential to the drama or in "non-sexual" (i.e. a stripping game show).
Film distributors and theater owners in the United States adopted in 1968 a rating system devised by the Motion Picture Association of America that determined a film's suitability for younger viewers. Initially, there were four categories, G (General Audiences), M ( Mature Audiences) , R (Under 17 requires a parent or adult permission/accompany them); and X, no one under 18 admitted. When violence occasionally tipped the edge to an "X" rating (Stanley Kubrick's "Clockwork Orange) for a mixture of sex and violence, pressure began to "edit" the film to achieve an "R" rating, as the "X" category became synonymous for a "porno" flick. Eventually, the unrated, adult movie houses called their films "XXX."
Initially, the R rating applied to 16 and under. In 1972, the "M" rating became "PG," as parents found it confusing to distinguish the contents of "M" and "R." The PG meant some material may not be suitable for pre-teenagers. Stephen Spielberg's "Indiana Jones and the Temple of Doom," "Poltergeist," and "Gremlins" had attracted complaints from some parents as to their suitability for some young people under 13. Spielberg suggested the addition of PG-13 which was adapted in November 1984. "The Woman in Red" , "Red Dawn," and "Dreamscape" were among the first films rated PG-13. The "X" became "NC-17" ( no children admitted under 17) in September 1990.
Similarly, cinema chains have increased enforcement of the rules requiring photo ID's for age proof to gain admission to "R" rated flicks. Parental permission now mostly means that the adult must attend, too, not just tell a manager, "it's OK."
One particularly violence horror flick, "Mark of the Dead" (1970), had a setting of the middle-ages Inquisition and contained graphic torture inflicted ( a tongue pulled from a mouth). It's gimmick, vomit bags handed out at the door. I know of two viewers who used them. Others made a run for the rest room.
Still, a mother's teen but under 17 son wanted to see the film. Workers at the theater attempted to persuade her that it was too intense. Her bottom line: Does it have any nudity? Answer: No. Verdict: The youngster can see the violent torture horror movie.
Two years later, the late Jack Hyman received complaints about "The Last House on the Left" (1972). After viewing a portion of the film, he temporarily closed the theatre rather than continue playing it.
Based on the unscientific survey, participants now have an understanding of explicit violence having a possible impact on certain viewers. Ironically, the amount of nudity in mainstream films has decreased (perhaps, in response to gender correctness and the women's movement?); raunchy now consists mostly of a certain four letter "F" word. It matters whether it's used as an explicative or as a sexual reference.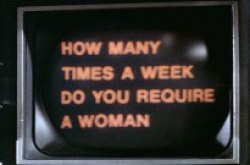 The rating system allowed PG movies to contain a distant , glimpse of mostly female nudity. "Vanishing Point," a car racing and individual freedom themed cult classic, contained a long, wide shot of a nude woman riding a bicycle. "All the President's Men" (1976) stirred controversy for using the "F" word. The Robert Redford/Dustin Hoffman film about the Watergate scandal won a PG rating on appeal of its initial R rating. At that time, the intermediate PG-13 did not exist. A little known science-fiction film, "Colossus the Forbin Project" (1970) had a supercomputer taking control (similar to "2001 A Space Odyssey"). To overcome the computer takeover, it's creator claimed that men require women on a routine basis. The pretext is used to achieve privacy, but nudity occurs in the production. Research reveals that the film did not contain a rating or had a M/GP/PG rating.
CONTRADITION ON VIOLENT MOVIES
The unscientific survey provides 62% agreeing that movies do NOT spawn violence, yet, 80% think producers should "stop making violent flicks."
Based on the discrepancies in this survey, I would have injected at least one additional question: Would you more likely allow / attend a film with: (a) Nudity or, (b) Violence.
By definition, films containing sexually explicit content are rated "R." As society has evolved, new pressures have been added for determination of a movie's suitability for children, including smoking, drug paraphernalia, and marijuana use. Brief male nudity requires a PG and more than brief male nudity a PG-13.
Standards applied by the panels that vote for ratings have been criticized, particularly those of low budget, independent filmmakers who do not have the clout of a major studio. The documentary, "Bully," originally received an "R" rating due to language, but after a petition of 300,000 people and the trimming of some explicatives, it received a PG-13.
_____________________________________________________
Access Hollywood Yvonne Strahovski On Her Dexter Role
* She is absolutely ravishing. Can't wait to see her in action on Dexter. This Hannah role will prove if Yvonne got the acting chops to take her to another level and make the right folks tin Hollywood to take notice. Fringe is one of my favorite shows on TV right now but prefers it was Yvonne as Olivia over that constipated-looking Anna Torv.
_____________________________________________________
Several shades of paradox
If, as a first-time novelist, E L James abided by the oft-dispensed advice of "write what you know," then she has had one hell of a sex life.
It must be the unrelenting sex and multiple orgasms in "Fifty Shades of Grey" that have sent it flying off the shelves the world over, Lebanon included – allowing it to surpass the stalwart Harry Potter series as the fastest selling paperback of all time.
Yet it can't just be the sex, as protagonist Anastasia Steele is a naive 21-year-old who, being a virgin, has had no sexual or romantic experience. She hasn't even tried masturbation, and is virtually innocent of computers, email or the Internet. Though "Fifty Shades" is set in 2011, Steele sounds more like a character in one of the class-conscious British novels she so loves to read.
In the first novel of James' trilogy, Ana is a university student in Vancouver, Washington. Her world falls apart as soon as she lays eyes on Christian Grey, "the most beautiful man on the planet," who she's been tasked with interviewing for her university's student magazine. She finds an obscenely rich entrepreneur who owns half of Seattle, at the age of 27, a piano virtuoso and a fully trained pilot who is adamant on feeding the world's poor.
Ana and Grey instantly feel a heady mutual attraction and for a few days he coincidentally "pops up" in Vancouver as he "finds it impossible to stay away" from her, despite his warnings that she should have nothing to do with him. Meanwhile, she cannot believe that this perfect specimen of a human being should be interested in her.
Et voila! The two embark on a too-fast-too-furious relationship, even after Grey shows Ana his "red room of pain" – a haven for engaging in BDSM (bondage, discipline, sadism and masochism) with shackles, whips, floggers, chains, canes and so on.
"I want you to willingly surrender yourself to me, in all things ... for my pleasure," Grey tells her, making it very clear that this is the only type of relationship he is interested in. Remarkably, naïf-like Anastasia Steele doesn't run for the hills.
There is a contract, a list of rules and hard limits, which she finds off-putting, but it doesn't stop her from allowing Christian to pop her cherry moments later. As James writes, Ana magnificently "explodes around him," many times over.
This is the point where your infatuation with "Fifty Shades" begins to nosedive. Though the novel's appeal lies in its graphic depictions of robust sex, it would make a more interesting read if Ana and Grey weren't having mind-blowing orgasms every couple of pages.
When the heroine orgasms at the drop of a hat – or more specifically, whenever Grey commands her to "Come for me, baby" – it's surprising to learn that "Fifty Shades" was written by a middle-aged woman.
It is a worth a mention though that, for most of the novel, the scenes with BDSM are few and quite tame. Basically Ana seems to enjoy being tied up and spanked.
Yet after a while all the fantastical, perfect, no-mess sex (made all the more bizarre by James' odd euphemisms for genitals – "my sex" or "down there," "his length" or "erection") just gets tedious.
It's not only the depictions of sex that make "Fifty Shades" monotonous. Ana's facial expressions are limited to flushing, gasping, eye-rolling, scowling and smiling shyly. She pulls each of these faces dozens of times over. Worse, the vast majority of Grey and Ana's conversations seem to be whispered or murmured. What's wrong with talking?
James isn't a particularly good writer, and the repetitive tropes and poor characterization hamper the novel's credibility. "Fifty Shades" is also full of distracting Britishisms that these American characters would never utter. It's understandable, as James is English, but still inexcusable: If you can't write American dialect, just set the novel in England.
Given its shortcomings as a piece of literature, you wonder why the novel is selling like hotcakes internationally.
The book is a paradox. While James should find herself a new editor and maybe join some writing courses, her book is undeniably a page-turner.
Ana and Grey's dialogues are sometimes amusing, especially when they email each other – full transcripts of their exchanges are included in the book – which makes you wonder whether Ana and Grey's relationship wouldn't be more dynamic (more interesting to read about, anyway) if they didn't spend so much time grappling physically.
The nonstop action – much of it in the bedroom – does keep the reader going, partly to find out if Ana will pursue this BDSM-filled relationship.
The depictions of sex in "Fifty Shades" are far from revolutionary, but because the sex has become the book's selling point, readers can no longer claim they've picked it up for its love story.
The main incentive to keep reading "Fifty Shades" may be to unravel the enigma of Christian Grey.
While the reader becomes familiar with Ana's every waking thought, Grey's secrets and the story behind his fetishes, feelings of unworthiness and refusal to be touched (emotionally or physically, at least above the waist) may be what makes readers curious.
Hints of a traumatizing childhood begin to explain why he is so dark and mysterious but not quite. Evidently James must leave something of substance for the following two parts of the series.
For most readers (for this writer, at any rate) it will be sheer curiosity about the hype around "Fifty Shades" that compels you to pick up this novel. And that is quite fitting as a beach read.
_____________________________________________________
* Currently compiling list of actresses to send to creators and casting director (if I can track down their e-mails or contact info) of Cinemax Femme Fatales if season 3 is green-lighted. Laura Prepon is on the top of the list. She is at the right age and could be open (read : vulnerable if her agent is ruthless enough) to dabbling in heavy-breathers genre. This Goossen chick is a top candidate as well. Boobies galore in fantasy cast.
_____________________________________________________
Burlesque dancer Dita Von Teese says she ''respects strippers of all forms''.
Dita Von Teese ''respects strippers of all forms''.
The burlesque dancer doesn't distinguish between her raunchy strip teases and performances by pole dancers and says they are all related.
She explained: ''Initially, I worked in strip clubs, as did most of us that were at the forefront of the burlesque revival in the early 1990s, and I'm not ashamed to say it. I respect strippers of all forms. I wouldn't be where I am today if I hadn't wandered into a strip club and wanted to know more about striptease history. I've always been able to admire what makes a dancer an

individual

, whether it's really raunchy or tame.''
Dita also revealed she thinks stripping can be ''elegant'', it just depends on how it is done.
She told Collector's

Weekly

magazine

: ''In my opinion, elegance has nothing to do with ''how much'' is shown and far more to do with the way one presents herself. I've seen beautiful, highly erotic, nearly pornographic

shows

that are more elegant than some burlesque acts. You can't equate the degree of nudity or

suggestion

, it's

all about

the overall way it's done.''
_____________________________________________________
Emily Mortimer Told to Improve Personal Grooming
Emily Mortimer was once told by a stranger to improve her personal grooming after she did a full-frontal scene in 2001 film 'Lovely and Amazing'.
Emily Mortimer was once told by a stranger to improve her personal grooming.
The 'Newsroom' actress appeared fully naked in 2001 film 'Lovely and Amazing' and her full-frontal scene had left a big impression on one viewer, because she was sporting an overgrown "bush".
Emily said: "A stranger came up to me and shouted, 'Got to do something about that bush, girl.' Then I got people saying, 'It was so brave of you to grow it' and 'Was it a merkin?' I had that it was earthy to not be that bothered, then my husband told me that. actually, it wasn't that sexy."
Emily - who has two children, Samuel, nine, and two-year-old May with spouse Alessandro Nivola - also revealed how being a mother has made her a lot more confident.
_____________________________________________________
YouPorn to Fred Willard Here's a Free Computer, Ya Know ... For "Free" PORN
YouPorn has come up with a solution to Fred Willard's dilemma of allegedly wanting to masturbate while watching XXX movies ... but NOT be arrested. AT-HOME INTERNET PORN!!!
The adult themed website fired off a letter to the 72-year-old actor -- who was recently popped for stroking the one-eyed snake in public -- offering to buy him a brand, new computer to watch porn on.
The letter states, "We wanted to educate you a little more on some of society's newest advances to help you achieve orgasm from the privacy of your own home."
Not only that, the XXX site even throws in free installation, adding "One of our YouPorn representatives will come to your home to install it for you."
Porn sites ... always lookin' out for the little guy.
Here's the letter:
Dear Mr. Willard,
We are so very sorry to hear about your recent run in with the law at the Tiki Theatre, and getting caught with "your pants down". We can imagine that all of this press has probably been quite embarrassing for you.
We are very impressed that at your age you still have such a strong, and
healthy libido Fred! That's why we wanted to educate you a little more on
some of society's newest advances to help you achieve orgasm from the
privacy of your own home!
First there is our website, youporn.com which is found on a place called the "internet". Some people say that former Vice President of the United States, Al Gore invented it, (but that's a whole different discussion).
The website can be accessed through a machine called a "computer" and it's connected these days via a cable modem that's provided by your local cable company. The computer has a television monitor attached to it so you may view any adult related material in the privacy of your own home! Also, a side benefit of owning a computer is that you can actually communicate with other people, but many of our members don't choose to do that.
Our website is 100% free and features thousands of video clips of people having sex. Every niche you can imagine is featured,on youporn.com. We'd like to buy you a home computer and have one of our youporn.com representatives come to your home to install it for you now that you may have some downtime.
We'd also love for you to join the millions of fans who " come"on our site daily, and possibly become our new spokesperson.
Best Regards,
Corey Price
_____________________________________________________
David Geffen At TCA: "Impossible" To Raise $2B To Start DreamWorks Studio Today
David Geffen is notoriously press and camera shy. (Unless it's with Maureen Dowd or Barbara Walters.) But he appeared at TCA today for the upcoming PBS American Masters: Inventing David Geffen documentary billed as an "unflinching" portrait of his life. He was brief with his answers to reporters and critics, emphasizing repeatedly this afternoon that he has little to do with showbiz anymore except for the 3 million-4 million stock shares which his foundation owns in publicly traded DreamWorks Animation run by Jeffrey Katzenberg. (He pointed out that he hasn't even seen Steven Spielberg's upcoming Lincoln yet "but I've heard it is very good" from DreamWorks 2.0.) Geffen said today it would be "impossible" to raise the $2 billion financing that formed the original DreamWorks which he co-founded back in 1994 with Spielberg and Katzenberg as the first new Hollywood studio in 50 years. "I don't think it can be done today for a start-up. I don't think anyone can raise $2 billion, I couldn't do it today." Geffen repeatedly spoke about the differences in showbiz between when he was coming up in the biz – and now. One of the most dramatic changes? "The demise of the DVD has a huge impact on the finances of the business," he said. "The business model has changed. The industry will exist in very different ways than we experience it today. It'll still be here. But I think there will be industries that will be far more profitable."
Specifically about the film biz, Geffen said, "The biggest movies in the world have no stars in them today. Avatar has no stars. Avengers, with the exception of the small role that Robert Downey Jr had in it, had no stars. Today it is the story not the stars," the mogul said. (He bluntly said Rock of Ages bombed because "it was a bad movie.") Geffen did say what's still the same is how hard it is to get into showbiz. "It was very hard then, and it is now. A very hard bullseye to hit." His own early years as a working class Brooklyn boy in the William Morris Agency mailroom in 1964 spanned into the music industry and his early success with Joni Mitchell, Crosby Stills and Nash, Jackson Browne, the Eagles, and Guns N' Roses through his companies Geffen/Roberts Management, Asylum Records, and Geffen Records. He also reached into feature films through Geffen Pictures and onto Broadway. A multimillionaire by 1972 and a billionaire by 1995, Geffen's final hurrah in Hollywood was DreamWorks and its evolution also is the subject of the PBS' two-hour Inventing David Geffen documentary. Along the way, the mogul's relentless ambition, business deals, political activism, and philanthropic causes are woven into the narrative.
Written, directed, and produced by Susan Lacy for PBS' American Masters, it will air on November 20th. More than 50 of Geffen's friends, colleagues and clients, as well as other media bigwigs, contributed to the doc exploring the highs and the lows in Geffen's professional and personal life, like Irving Azoff, Jackson Browne, Cher, David Crosby, Clive Davis, Barry Diller, Maureen Dowd, Rahm Emanuel, Nora Ephron, Tom Hanks, Don Henley, Arianna Huffington, Jimmy Iovine, Elton John, Calvin Klein, Steve Martin, Lorne Michaels, Mike Nichols, Yoko Ono, Frank Rich, Slash, Jann Wenner, Neil Young, and of course Spielberg and Katzenberg. Notorious for his fierce loyalty, bluntness and chutzpah, Geffen has not avoided conflict or controversy. American Masters' Inventing David Geffen addresses his fallings out with Laura Nyro, the Eagles, and the Clintons, his lawsuit against Neil Young, his unsuccessful stint at Warner Bros Pictures, his whirlwind romance with Cher, and his struggles with cancer, homosexuality, and the AIDS-related deaths of his friends. Since its 1986 premiere, American Masters has earned 23 Emmy Awards, the 2012 Producers Guild Award, 12 Peabodys, an Oscar, and three Grammys.
_____________________________________________________
You have read this article Fifty Shades of Grey / True blood / Yvonne Strahovski with the title stars, sex and nudity buzz : 07/23/2012. You can bookmark this page URL http://renelyons.blogspot.com/2012/07/stars-sex-and-nudity-buzz-07232012.html. Thanks!