The Boomerang magazine dedicated some of its pages to the Australian actors and of course to the new Dexter star, Yvonne Strahovski. Click the pictures below to see scans from the magazine.
The highly sought after, Shangri-La Entertainment produced, Hotel Noir from writer/director Sebastián Gutiérrez (GOTHIKA, SNAKES ON A PLANE, GIRL WALKS INTO A BAR) has just been completed and will be shopped to international buyers in Cannes by Colleen Seldin of Locomotive Entertainment Group. The sexually charged crime film set in 1950's Los Angeles tells the story of a detective holed up in a downtown hotel waiting for assassins to kill him. As one long night turns to day he meets various characters with haunted pasts of their own, and the truth of how he ended up in this nightmare situation is revealed.
Actor Paul Dano and filmmakers Jonathan Dayton and Valerie Faris explain why their film didn't need a love scene.
One of Ruby's first lines in "Ruby Sparks" is, "I missed you in bed last night." That statement shocks Calvin, not the least of which because Ruby was, up until that moment, a figment of his imagination. But it's a statement that could also be made by the film's audience, since despite being a romantic dramedy starring a real-life couple, "Ruby Sparks" is short on sex. Sure, Paul Dano and Zoe Kazan kiss, and they even walk around in some scenes with few clothes on, but there's no actual sex scene for this pair. This is intentional, the filmmakers and lead actor told IFC.
"I have no problem kissing Zoe," Dano said. "But I don't think the film needed a sex scene."
"We talked about it a lot," said co-director Jonathan Dayton, "and ultimately, we felt like this film didn't really require a lot of explicit sex. For the most part, it was better to leave that to the theater of the mind, than to show it."
"One of the things we were impressed with Zoe's script was how it covered a pretty large territory pretty quickly," said co-director Valerie Faris. "It didn't feel like we were missing anything [not to have a sex scene], because I love all the places it goes, so we never really lived too long in any one place."
The closest the film comes to a nude scene is when a sleazy Steve Coogan convinces Kazan to strip down to her underwear to join him for a late-night swim, but as soon as she does, Dano interrupts the two. "Steve, we love and have loved," Faris said. "He only came in for a couple of days, but he made that character so much more dimensional because of all he brings to it."
Plus, Coogan's recent turns as a philanderer in "Our Idiot Brother" and "The Trip" helped put the image to mind of what he would have done, if he only had a chance. "It's a gift!" Dayton laughed. "Unfortunately, he just has that quality," Faris said. "But he's a super great guy, and he's in pretty good shape, too. He was in his underwear in the pool and six in the morning, and I felt so bad, because he had to get right back on the plane right after that."
In lieu of sex scenes, the film concentrates on the magical romance between Dano's writer Calvin and his creation Ruby (Kazan's character), who materializes in real life after he's written her on the page. Their relationship, as it is, is tightly controlled by whatever Calvin types, including her every mood; if she starts caring more about her career, all he has to do is type, "Ruby misses Cal desperately," and she comes running back.
"We wanted the magical aspects of it to have a romantic high, and be wonderful to watch," Dano said. "But we wanted the emotions to be real enough so that you would be invested and it feels real, because Ruby is real, even if she came from who-knows-where."
"Once we were there, it was just about Calvin and Ruby," Dano continued. "I think Zoe choose what she thought was best for the characters, and I don't know if she considered our relationship while writing it. I think we would have felt self-conscious if the film felt like our real life, you know? I wouldn't have wanted our real relationship in the film, and she knows me well enough to know that I would be pissed off if that happened. But the story has a life of its own, and it ended up being a good thing that we could bring an intimacy and a chemistry to the characters for their own sake."
Still, for fun's sake, Faris and Dayton joked that they could revisit the sex scene idea for a viral video campaign, and finally "take advantage" of Kazan and Dano's relationship. "If ever there were a time when we could have shot a scene, we had a real-life couple!" Dayton laughed.
"Maybe we can use it for some ads," Faris suggested.
"The 'Ruby Sparks' sex tape," Dayton said.
"Oops! This might just leak out," Faris laughed. "Good idea."
Law Professor Charged in Sex-for-Grades Corruption Scandal
Have you ever thought about having sex with a professor in exchange for a good grade? Don't lie, we've all thought about it. Here in America, it wouldn't be that big of a deal if someone found out about your illicit tryst. Someone might get fired, you might have to retake a class, but that would probably be the end of the story.
But if this had happened in another country, perhaps a country with stricter laws, then the professor in question could be looking at multiple criminal charges, a pretty stiff sentence, and huge monetary fines. And as luck would have it, a sex-for-grades scandal recently occurred in Singapore of all places — the same country that recently "relaxed" its death penalty standards in favor of lifetime imprisonment with caning.
Let's discuss the allegations of a professor's hanky-panky with a law student coming straight out of the "Fine Country," a place where defendants cower in fear over the fines they may face for their alleged behavior….
Tey Tsun Hang, an associate professor of law at the National University of Singapore has been charged with six counts of "corruptly obtaining gratification" from a former student, which is just a classy way to say that Tey was allegedly getting freaky with a student in exchange for good grades.
The Big Story blog of the Straits Times has the scoop on this developing story:
Court documents indicated that Tey, 41, is accused of obtaining gratification in the form of sex – on two occassions – and other items such as a Mont Blanc pen, an Apple iPod as well as two tailored-made shirts from former student Darinne Ko Wen Hui, 23.


She had also made payment for one of his bills worth $1,278.60.




These were said to be inducements for showing favour in his assessment of Miss Ko's academic performance.
Wow, apparently good grades cost a pretty penny in Singapore, because a law professor here in the United States probably wouldn't expect to be showered with gifts in addition to any office-hours sexy time. And just how bad were Ko's grades in the class to begin with? Perhaps Ko wasn't as good of a lay as she thought she was, and felt inclined to give her professor presents for some additional incentive.
Either way, we'll see if Singapore's Corrupt Practices Investigation Bureau will somehow be able to unearth all of the evidence to support these charges against Tey. According to Bloomberg, Tey faces a maximum fine of approximately $79,888, as well as up to five years for each of his six corruption charges, if convicted. And don't think that Tey's accuser will get off so easily, because even though she hasn't been charged (yet), Ko has hired some top criminal lawyers to handle her case.
Hopefully Tey will be able to get off as easily as he did when he was allegedly involved with Ko.
Photo of ex-student in sex-for-grades case revealed

SINGAPORE - The identity of the former law student involved in the sex-for-grades case was revealed yesterday to be Darinne Ko Wen Hui, 22, who is currently understood to be working overseas.
This was revealed in court when the professor, Tey Tsun Hang, 41, was charged over the alleged scandal.
Within the first half of the day, Darinne Ko Wen Hui's photo and information on her was circulated on the Internet. Miss Ko has since taken down her LinkedIn profile and deleted her Facebook page.
She is alleged to have sexually gratified Tey on two occasions and given him gifts such a Mont Blanc pen worth $740, two tailor-made shirts worth $236.20, and an iPod Touch.
She also made a bill payment of $1,278.60.
Ms Ko, who turns 23 today, has not been charged.
The law student at the National University of Singapore from 2008 to 2012 graduated just last month with a second upper honours degree. She is describes as highly motivated and competitive.
She studied at Raffles Girls' School, Raffles Junior College and was on NUS Law's Dean's List in 2009.
According to her LinkedIn profile, she interned for two years at Rajah and Tann law firm from 2008 to 2010. She reportedly has a training contract with the firm but is also believed to be currently holding a job in a firm in New York.
The Straits Times reported that Ms Ko does not seem to be enrolled in this year's five-month preparatory course leading to Part B of the Singapore's Bar Examinations.
Law graduates must pass Part B and then undergo about six months of pupilage at a firm before becoming full-fledged lawyers.
Ms Ko also worked as a summer associate at O'Melveny and Myers in 2010 for a year.
She had studied equity and trusts and took a personal property law class under Tey in 2010 and end of 2011 respectively. Ms Koh was also part of a group of students who helped him prepare a law textbook titled Trusts, Trustees and Equitable Remedies.
The New Paper reported that information her Facebook page revealed that she loves to travel and is an ardent fan of English football team Manchester United.
The reportedly tomboyish girl would wear the team's jerseys to schools.
She also loves to hobnob but hates long skirts, reported the tabloid. She had blogged in July 2008 that she thought mingling with the who's who of the legal fraternity is "seriously cool".
She then talked about wearing longer skirts for now but comforted herself saying, "it's okay, once I'm up there, I can wear skirts above the knee".
Speaking on her behalf, her lawyers Subhas Anandan and Sunil Sudheesan said that she "strenuously denies any corrupt wrongdoing," reported The Straits Times.
They were at court yesterday to apply for a gag order to keep her identity from becoming public knowledge.
But this was objected to by both the prosecution and Tay's defence lawyers.
District Judge Lim Tse Haw pointed out that Ms Ko was not "a party to the proceedings", so the application of the gag order could not be made, reported The New Paper.
Ms Ko's NUS degree may be in question as an NUS spokesperson said students who breach its Code of Student Conduct are subject to disciplinary proceedings.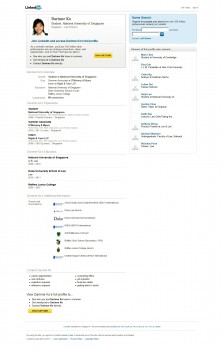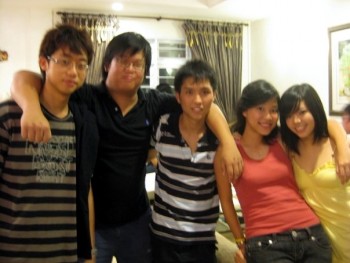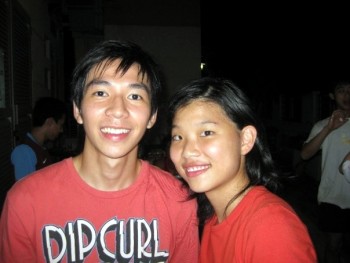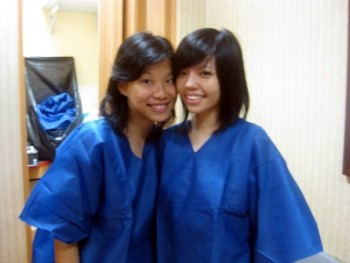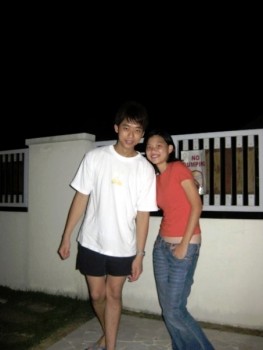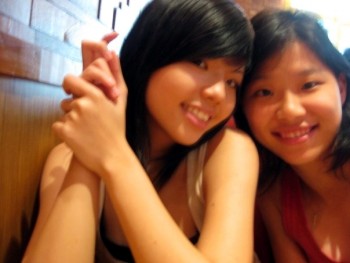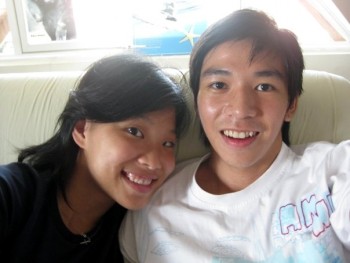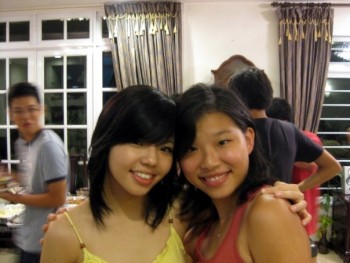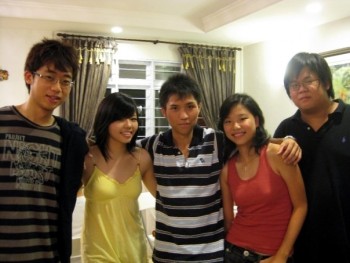 * The 'scandal' could open up a whole new can of worms for all the parties involved. Miss Darinne will be forever tainted and she could kiss her budding law career good-bye unless she exposes other college students involved in the transaction. Taking the heat off her. There is no way she approached the professor stud without some prior knowledge of his 'giving' nature. Especially so when he brazenly demanded second round of banging the cross-eyes sweetie within days which suggest the college 'stud' have bedded other students as well. The dude is experienced in providing 'intense tutoring' that's for sure.
_____________________________________
With International Launch, Adult Voyeur Takes Australian Art-Porn International
Australian art-porn finds a new home with the International launch of member site AdultVoyeur.com.au
Adult Voyeur takes an artistic approach to all-sex, hardcore scenes, incorporating high-end production values with the diversity of Australia's natural beauties. But the site almost never made it to an International audience, until CCBill granted the website access to processing for Visa credit cards, along with other credit card billing options.

Adult Voyeur's owner and director, Bourke Wills, feels a sense of accomplishment after a hard won fight to secure International credit processing services for his site.

"It was a long road to finally be able to offer full International access to our site. CCBill smoothed the way for us to accept all credit card options and I thank them profusely for their help. I know that Adult Voyeur is in the lead of the next wave of Australian porn, which was proven when we won for Best Australian Adult Entertainment Website, in the 2011 EROS Shine Awards. I'm glad the rest of the world can now access our site, as well."

Raw, sensual video is the hallmark of Adult Voyeur. Every scene is filled with a naturalness enhanced by the free, open nature of the Aussies that Wills and his crew capture. Yet, there is a glow to each scene that transcends the hardcore action into an intensely sensual experience for the viewer.

Wills explains, "Most people, even most porn fans, don't even know there is a growing Australian adult industry. This is a shame, because there's some great stuff coming out here and Adult Voyeur is proud to be taking a part in shaping the future of Australian adult entertainment."
About Adult Voyeur:
Adult Voyeur is an Australian based adult website, which focuses exclusively on producing art-core video in the all-sex style. High quality productions and specifically shooting Australian talent, in Australian locations, is the hallmark of Adult Voyeur's website.
Insights On The Porn Industry From Model : Victoria Rae Black
Here's what she had to say about how she separates work from real life:
"On-camera or casual sex is NOT the same or as meaningful as personal life sex. There was a period of adjustment for me with my boyfriend but once I let the walls down and let him in emotionally the sex became the most passionate I've ever had. Working with other men just makes me appreciate the sex my boyfriend and I have even more."
On what kind of man dates a porn star:
"My current boyfriend loves me for me. He never saw my porn before we got together and is so geeky and nerdy that my looks only threw him off his game on our first date. He was so nervous....lol."
On how she fakes pleasure:
"Sometimes you have to fake it. If that is shocking to anyone then i suggest having sex with a lot of strangers several times a week, some of whom you don't even feel attracted to."
Here's how the camera men REALLY feel:
"Those dudes are sooooooooo over it. They see that everyday, sometime twice a day, 6 days a week. I have yet to meet a camera man who give a s---."
And how the economy of porn is evolving thanks to business models from successful sites like Hulu and Netflix:
'I think the economy is slowly starting to turn around. I saw a dip in the scenes I was shooting in the last two years but now things are on an upswing, companies are making more money and therefore producing more content. I think entertainment in general is in a transitional state, between TV/Movies and the internet. As I'm sure you've all noticed, Hulu and Netflix are becoming much bigger players than anyone imagined, as a result studios are rethinking how the distribute and release things. I bring that up only because (as is often the case) PORN lead the charge on that one. Our industry has been suffering from the online competition for years now. It's only recently that companies have started to come up with innovate ways to keep money coming directly to them instead of all the free porn spread across the web."
_____________________________________
A Homeless Man's Funeral
As a bagpiper, I play many gigs.
Recently I was asked by a funeral director to play at a graveside service for a homeless man.
He had no family or friends, so the service was to be at a pauper's
cemetery in the Kentucky back country.

As I was not familiar with the backwoods, I got lost and, being a typical male, I didn't stop for directions.
I finally arrived an hour late and saw the funeral guy had evidently gone and the hearse was nowhere in sight.

There were only the diggers and crew left and they were eating lunch.
I felt badly and apologized to the men for being late. I went to the side of the grave and looked down and the vault lid was already in place.

I didn't know what else to do, so I started to play. The workers put down their lunches and began to gather around. I played out my heart and soul for this man with no family and friends.
I played like I've never played before for this homeless man. And as I played 'Amazing Grace,' the workers began to weep. They wept, I wept, we all wept together.

When I finished I packed up my bagpipes and started for my car. Though my head hung low, my heart was full. As I opened the door to my car, I heard one of the workers say,
"I never seen nothin' like that before and I've been putting in septic tanks for twenty years."

Apparently I'm still lost.
_____________________________________