I believe there will be nudity on ITV/Sky new mini-series Falcón (2012– ) starring the likes of Hayley Atwell, Emilia Fox, Kerry Fox and Natalia Tena.
The two part production is based on Robert Wilson's bestselling detective novels and will be Sky Atlantic's second UK original drama commission following Hit + Miss.

Emilia Fox (Silent Witness, The Pianist) will play Ines, the estranged wife of Falcón, whilst Kerry Fox (Cloudstreet, Shallow Grave) is his sister, Manuela.
Sky Atlantic is proud to announce the production of a four-part crime drama, set in Seville and based on Robert Wilson's bestselling novels. Falcón premieres in two weeks, Thursday, 15 November at 10pm on Sky Atlantic.
Story:
Javier Falcón investigates a series of particularly brutal murders, which lead him to uncover shocking buried truths about his own family's history.
Falcón himself is a complex and layered character, with a psychological darkness which mirrors the brutal darkness which surrounds him in Seville. An innately sexual and charismatic character, Falcón is forceful and focussed, happy to ignore the distinction between the law and criminals and embrace his own flaws and addictions when he has stuff.
The hidden side of Falcón's personality is matched by the darker, more visceral side of Seville; a dark and brutal place which lurks behind the creative and vibrant façade of the city. Set and filmed in and around Seville, the drama will show viewers a side to the city which they are unlikely to have seen before; Falcón's Seville is shadowy, atmospheric but with a dynamic vibrancy and life.
The first story to be adapted is The Blind Man of Seville, which follows Falcón's investigation into a brutal killing which stirs long forgotten memories. As Falcón investigates the crime, and finds himself drawn to the widow of the victim, he discovers the secret truth about his artist father's violent history in Tangier and the Spanish Civil War.
The second story to be adapted is The Silent and the Damned, in which a double suicide takes Falcón to an exclusive area of Seville where wealthy neighbours keep their secrets well hidden and there's more in the freezer than just food.

About the commission, Elaine Pyke, Director of Sky Atlantic HD, said:
"Falcón is sexy, visceral and clever. Against the backdrop of steamy Seville, the series promises a different view of Spain and a different view of crime. Falcón will expose the ugly and raw underbelly of Seville life. It's very sexy and grown up," Pyke added.
The opening two-part story, The Blind Man of Seville, begins with the torture and murder of a wealthy businessman.
The victim is Carlos Jiminez, a rich guy with a serious prostitute habit despite his wife being Hayley Atwell. The killer has cut Carlos's eyelids off.
Was it the wife, or her lover, behind the gruesome death? Falcón doesn't think it was anything so mundane. When the last prostitute used by Carlos is also murdered, Falcón is convinced the perpetrator is sending some twisted message.
That looks like Hayley Atwell as Consuelo Jimenez, the widow of a murder victim who may also be the number one suspect. Falcón falls in love with her.

As one reviewer told me, the two

-parter

is

mildly erotic.
Hayley is so inconsiderate keeping her God-gifted boobies to herself all these years. Selfish and immature I say. If those puppies can talk they'll beg Hayley to let them out for a breather. She going to regret later when her baloobas becomes victim of gravity when she is in her mid-30's. It should be displayed in its prime - supple and tight. Christ...want to put my face right in the middle of those melons and suffocate to death in ecstasy.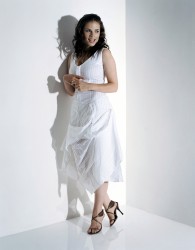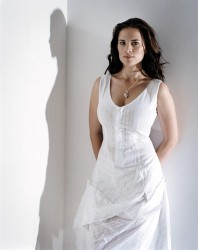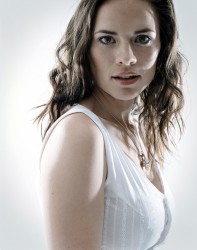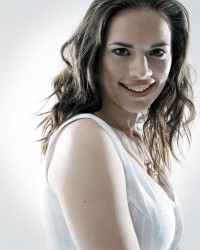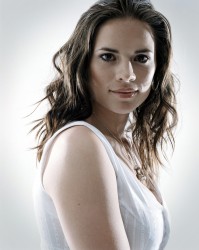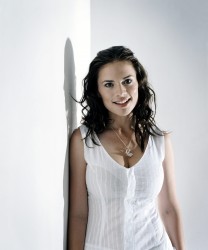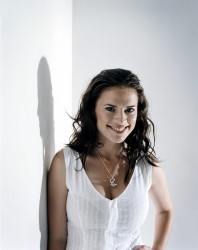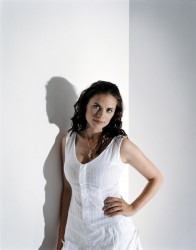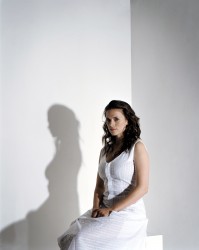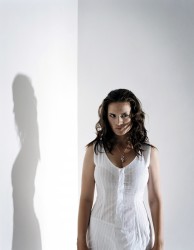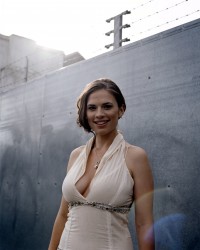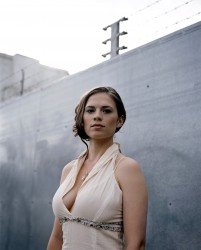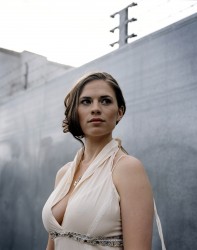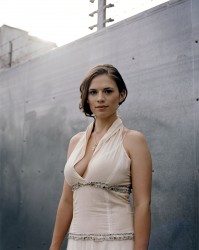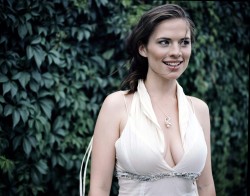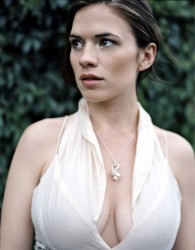 Just hoping Restless will be a faithful adaptation of the novel and we at last get a clear view of part-yankee all-limey tits with nips visible.
+++++++++++++++++++++++++++++++++++++++++++++
Britt Robertson

Is UNDISCOVERED GYRL!
Only on the internet can you have so many friends and be so lonely
. True story guys! Ok, I know this is probably not something that will have your full attention, but I find this story interesting so here we go!

Britt Robertson
, probably best known from
The First Time
rom-com, will star as the lead in an upcoming indie drama
Undiscovered Gyrl
, which comes from
Allison Burnett
.
And when I say – it comes from, I mean that Burnett will direct the whole thing, and the movie will be based on his own novel of the same name that was published by Vintage Books in 2009.
The movie will center on an emotionally-troubled and imaginative high school graduate who decides to take a year off before college and start a blog as her life begins to spiral out of control. As you already guess,
Robertson is on board to play that girl, named Katie Kampenfelt, and just in case you want to hear even more details about this project, here's an official synopsis for Bunett's novel:
Beautiful, wild, funny, and lost, Katie Kampenfelt is taking a year off before college to find her passion. Ambitious in her own way, Katie intends to do more than just smoke weed with her boyfriend, Rory, and work at the bookstore. She plans to seduce Dan, a thirty-two-year-old film professor.
Katie chronicles her adventures in an anonymous blog, telling strangers her innermost desires, shames, and thrills. But when Dan stops taking her calls, when her alcoholic father suffers a terrible fall, and when she finds herself drawn into a dangerous new relationship, Katie's fearless narrative begins to crack, and dark pieces of her past emerge.
See, I told you this could look cool! Especially now when we have Robertson as that crazy bitch. Described as
sexually frank
, often heartbreaking, and
bursting with devilish humor
, Bunett's novel definitely deserves a big screen adaptation.
Who agrees?
*
Oh my sweet Britty Robertson. It appears she is ready to show off her new plastic boobs to the world. I wrote about her back in October suggesting she was dropping her nudity clause.
It appears Ms.Robertson is doing the lead role of Katie Kampenfelt based on writer Allison Burnett 2009 novel Undiscovered Gyrl. Alison is a dude by the way and he also a screen-writer of middling quality.
Apparently the adaptation was shelved few times before Allison finally raised the funds and snared an actress willing to show upper frontal in non-sexual situations. Body double will be used everything else imho. The first chapter of the book itself is filled with sex

. Katie fucks

Dan the older guy and then Rory the boyfriend.
This also confirmed Britt and rep had a discussion about her career and the long-term projections. The 22-years old then agrees to dump the nudity clause. She don't want to be forever stuck in teenybopper characters. It's time move on to far more challenging and darker flicks.
with Gia Mantegna who plays drug-addicted Jade
+++++++++++++++++++++++++++++++++++++++++++++
Amanda Seyfried
: Vanity Fair magazine [December]2012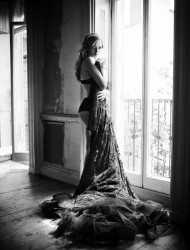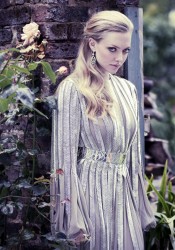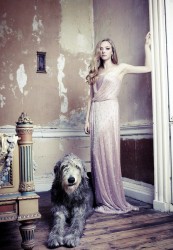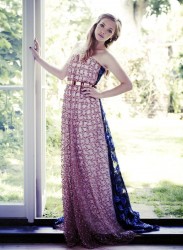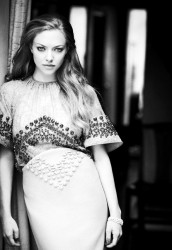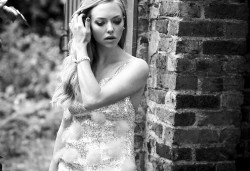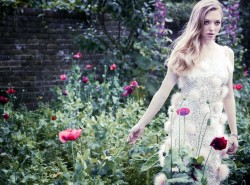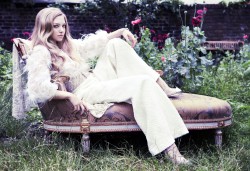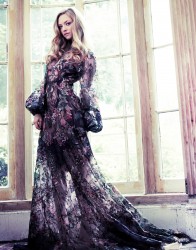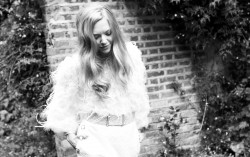 * Unless you guys been living under a rock, Amanda almost perfect breasts will be a contender for nude scenes of 2013 in upcoming Lovelace. Never mind she doesn't look like Linda Lovelace. Don't bother to hope for full-frontals even with merkin according to Ms.Seyfried herself. Amanda and her team was heavily involved in post productions particularly the editing to make sure everything was tasteful.

+++++++++++++++++++++++++++++++++++++++++++++

SKRILLEX and WOLFGANG GARTNER : THE DEVIL'S DEN




+++++++++++++++++++++++++++++++++++++++++++++

* Most celebs freaks out when they see the hits for google search usually geared towards nude pics of themselves (without the safe filter). But

Yvonne Strahovski

is being good sport about it albeit

the prerequisite

self-consciousness. She don't want to be remembered for nudes alo

ne

in her stint on Dexter. Got a gut feeling

Yvonne

will surprise us this week too with tiny bitty of nudity.

+++++++++++++++++++++++++++++++++++++++++++++

Jennifer Lawrence

's December 2012 ELLE Cover Shoot

+++++++++++++++++++++++++++++++++++++++++++++
Reel Women:

'The Sessions' Has Some Naked Problems
+++++++++++++++++++++++++++++++++++++++++++++
Next steps: 2012 Spotlight Prize winner
Faye Marsay
6th November 2012
Bristol Old Vic Theatre School graduate Faye Marsay was crowned Spotl
ight Prize 2012 winner
in July, after impressing the judges with her performance of Motherland by Steve Gibson.
Since then, Faye, who is represented by
Curtis Brown
, has been cast as Anne Neville in the BBC's adaptation of Philippa Gregory's
The White Queen
.
Faye, who impressed a
judging panel
that included Amanda Redman, Dan Hubbard, Jerry Knight-Smith and Daniel Mays, has been filming in Bruges and we caught up with her to find out how her working life post-Prize has been going.
What have the past few months been like since winning the 2012 Spotlight Prize?
It's been very busy! Which is so nice. I still can't believe I actually won it! I've had quite a few auditions and met some nice people.
Now time has passed since the Showcase, what do you remember from the night? How did you celebrate?
I remember it all being a bit overwhelming, but in a good way. I just enjoyed myself really and tried to have a laugh despite the nerves. I celebrated in different stages, with mates from drama school and then I went back home and celebrated in the North East with my mates and family up there.
Did you get any interesting offers or make any good contacts following the Prize?
I was lucky enough to be seen for a variety of different projects and for that I am so grateful.
You've since landed work on the BBC's adaptation of The White Queen. How did that come about?
It was one of the auditions I got after winning the Prize. I met the casting directors and the next day I auditioned. I think it took about three weeks for them to cast me, so I thought maybe it wasn't meant to be and just cracked on with other stuff. Then I got a phone call telling me I got the part. It was a massive shock actually. I'm still getting used to the idea that I have been allowed to play this role.
What's it been like filming on-set in Bruges for The White Queen?
It's both amazing and scary at the same time. Amazing because here I am on this film set with all these actors who have been doing it for years, and who are all looking after me and showing me the ropes, and scary because I just want to get it right and do it justice. I am extremely lucky to be in the situation I am in, and will be forever grateful. I'm learning so much.
How are you finding the demands of working on a major TV drama?
It's really hard work and everything is run like clockwork. The crew work incredibly hard. The whole thing runs like a big machine and everyone has their one job to focus on. When it all comes together it is amazing!
The hours are long but for me, I like to watch and learn and see how it all works. Like I said, so many skilled people contribute to achieving this one goal and that is a really lovely thing to see.
What's next for you after The White Queen?
I don't know to be honest. That's the thing isn't it? None of us really know what will happen next. But I hope for more work again and maybe get back on stage as well. We shall see what the industry is doing and whether there is room for me to play another part.
What's been your most memorable moment in the months since winning the Spotlight Prize?
Ringing my mam and telling her I had won and being cast as Anne Neville: the kingmaker's daughter.
The White Queen will be broadcast on BBC One in 2013. For more information on The White Queen, please visit the BBC Press Centre.

Faye is represented by Curtis Brown Group. To find out more about her winning performance and for more information on the 2012 Spotlight Prize, click here.
+++++++++++++++++++++++++++++++++++++++++++++
Miss USA Contestants Lip Dub 'Call Me Maybe'
Miss USA pageant contestants take part in this awesome lip dub of Carly Rae Jepsen's hit pop song, "Call Me Maybe." Even Donald Trump makes an appearance!
+++++++++++++++++++++++++++++++++++++++++++++
Sherlyn Chopra to shoot Kamasutra sex scenes in Hollywood
Model-turned-actor Sherlyn Chopra, who grabbed many eyeballs for venturing into a complete nude photo shoot for Playboy magazine, will soon be seen doing more bold scenes in her upcoming film Kamasutra.
The makers, however, are taking extra precautions by shooting the said explicit scenes in Hollywood.
The director of the film, Rupesh Paul, does not want it running into any sort of trouble, in case they incite some kind of a social protest. He is presently in Los Angeles and soon hopes to hire a studio there.
"Considering the touchy cultural atmosphere (in India) and the people's sentiments; we have decided to shoot the scenes outside India. I met a line producer here who is well experienced in the field, and can easily facilitate any studio in Hollywood for the nude scenes," says Rupesh.Rupesh tells us that it was his close friends from the industry, who cautioned him about proceeding with the shoot here. "I was getting calls from my friends, warning me that no nude scenes should be shot in India. It may create unwanted issues. Some communal organisations can even exploit the situation just to make headlines," he adds.
The director will be shooting the rest of the film and its songs in Gujarat, Rajasthan, Madhya Pradesh and Mumbai.
She recently created history by becoming the first Indian to pose nude for Playboy magazine. Though she received flak for the provocative content, Sherlyn is unfazed. In fact, we now hear that Sherlyn will be seen as a leading lady in Kama Sutra, a movie that will be made in 3D by director Rupesh Paul.
Paul had announced his plans for the film when he premiered his maiden Hollywood venture Saint Dracula 3D at the Cannes Film Festival earlier this year. He also said that he plans to premiere Kama Sutra at the same prestigious international film festival in 2013.
+++++++++++++++++++++++++++++++++++++++++++++
Is

Nudity

Still a Box-Office Draw in Korea?
+++++++++++++++++++++++++++++++++++++++++++++
SKorea's secret: Runaway teen prostitution
By
Jennifer Chang
+++++++++++++++++++++++++++++++++++++++++++++
* Do all Polish girls look alike? Yvonne Strahovski dodge the 'real' nudity bullet (so far) but don't fret guys, I found a perfect doppelganger:
Look who's doing porn.....Miss Polonia (Polish-American) Manhattan 2012 Katarzyna Tyszka.
19-years old Katarzyna just graduated from high-school and plans to study economics and management. Before that she needs to save money and thanks to her older sister Natasha found the perfect p

lace

to earn

quick cash

:

Pornland
Her porn name is Natalia Starr. Check out her twitter.
That's her sister Natasha Starr on far left in black laced dress. Runs own web-site specializing in gang-bangs with black dudes. She recently did her first pro-Anal DP at BlacksOnBlondes site. Both sisters are black cock lovers. Natalie is taking it slow but her hunger for ebony sticks will make sure she be satisfied by black bulls soon on the same site.
This shoot for DigitalDesire.com is her first ever professional nude modeling.
Recently did her first boy-girl scene on-cam
Her new BFF is Teal Conrad. Both are staying in the same model house. Both plan to work for a long time in the biz and be super successful.
Smut biz is facing some tough times with Measure B coming through and expected migration to Sin City looking inevitable. The more folks attempt to crush the industry the stronger it will become. Girls like Teal and Natalie are best examples of normal girls with normal background choosing porn as a viable career. Heck...

s

ome parents actually don't mind

t

heir daughter fucki

ng on-cam

. AmateurAllure site recently had couple of girls 'performing' on set while their mums waited outside in the car. Porn is becoming a feasible job opportunity; similar to stripping - a way to make money and working through college. It's flexible and once you go past the 'wall'

(

*) it should be a smooth ride.
It's a

ctually

an achievement

i

f the

girls

managed to stay in the hardcore b

iz for 3-4 years before moving on.
* Fucking strangers almost daily on-cam can be extremely stressful - physically and emotionally - even for girls with high sex drive. One of the main reason for the female talents quitting within weeks. Most porn agents are still in for short-term profits, treats the girls as fast expiring commodities rather than as a long term investment and protecting their clients from over extending themselves.
+++++++++++++++++++++++++++++++++++++++++++++