Second Trailer for 'About Cherry' with

Ashley Hinshaw

and James Franco
"And... action!" IFC Midnight has debuted the first official trailer in high def on Yahoo for one of the latest porn industry indie dramas called About Cherry. This one stars Ashley Hinshaw as Angelina, a young up-and-coming porn star lost in the adult film world in San Francisco. She encounters the likes of James Franco, Heather Graham, Lili Taylor, Diane Farr, Megan Boone and finally, Dev Patel. This seems to be based on the life of Lorelei Lee, as she's co-writer of the script. While it is a greenband, safe-for-work trailer, it is still filled with lots of porn moments, however I'm intrigued. Seems like it might be a solid flick.
Here's the first official trailer for Stephen Elliott's About Cherry, originally from Yahoo:
The story of a high school student (Ashley Hinshaw) who escapes trouble at home by running away to San Francisco, where she encounters the adult film world and aligns herself with a cocaine-addicted lawyer.
About Cherry was co-written and directed by author Stephen Elliott, founder of The Rumpus, author of The Adderall Diaries, who is making his feature directing debut. The screenplay was co-written by Lorelei Lee and Elliott. This first premiered at the Berlin Film Festival and played at the San Francisco Film Fest, also under the title just Cherry. IFC Midnight is releasing About Cherry in limited theaters starting September 21st.
* They'll be releasing a better, R-rated trailer, next week
___________________________________
nudity dodger
Elisabeth Moss
in
Jane Campion's mini-series "Top Of The Lake"
Jane Campion's mini-series "Top Of The Lake" featuring "Mad Men" star Elisabeth Moss. The project reunites Campion with Gerard Lee, the writer of her 1989 film "Sweetie," for the tale of a detective investigating the disappearance of a 12-year-old pregnant daughter of a local drug lord. "The Piano" star and Oscar winner Holly Hunter, Peter Mullan ("Tyrannosaur," "War Horse"), David Wenham (Faramir in a couple of "The Lord Of The Rings") and Lucy Lawless all feature. And it looks like a great gear change for both Campion and Moss already, with some really moody atmosphere and chills coming through.
Director: Jane Campion




Writer: Jane Campion, Gerard Lee




Genre: Drama




Country: UK/ Australia




Running Time:6 episodes, 50 min. (7 episodes, 60 min.)
Oscar-winning director Jane Campion ("The Piano," "Bright Star") returns to her roots with the leading character of her new project. The master of auteur films promises to captivate the audience with a strong mix of her favorite ingredients - a
thriller, psychological drama, terrific landscape of Moke Lake, New Zealand and A-list actors.
The plot reveals the details of investigation into the disappearance of twelve-year-old girl named Tui from the little village, lost among the picturesque hills on the shore of the lake. Young Australian detective Robin Griffin, who investigates the
case, will have to remember that she actually was born in these places.
This wonderful place is a paradise of local despots and criminals: poor Tui was pregnant, her father is a drug lord here, the community is hostile to the novice
Robin "must lose herself in order to find the missing girl", Mrs Campion pointedly informs.
* Jane Campion is reportedly directing the 'sensual' and 'nude' scenes. There will be nudity....
Interview with Genevieve Lemon :




Set in New Zealand, Top of the Lake follows the disappearance of a pregnant 12-year-old, with Mad Men star Elisabeth Moss playing the investigating detective. Lemon plays Bunny, a wealthy woman who has been abandoned by her husband.




Holly Hunter and David Wenham are also in the cast.




The role features Lemon's first onscreen sex scene. She has experience of nudity having appeared naked in Sweetie and Steaming, which was set in a women's turkish bath. "It's never easy," she says of appearing nude. "Steaming was good




training for the fact that your naked self is kind of like another costume in a way and if you can get your head around that, I'm sure there are much more embarrassing situations you can get into.




"I actually had a sex scene in Top of the Lake, which on paper is much more terrifying than just a nude scene. A nude scene - maybe it's different for someone who is classically beautiful and slim. I guess you'd want to look at your best, but when you're my shape you don't think in those terms. You think, 'Well the director wants me.' They haven't said to me 'You'd better lose a few pounds there, Genevieve.' They've said, 'I want you and in this scene you're going to be naked.'




"So there are no surprises there. When I take my clothes off everybody is not going to say, 'Oh dear, she had cellulite!' " she says with a huge hoot of laughter. "You know what I mean? So in a sense that frees you.




"It was respectful and done with humour and love and so you just go with it. Jane wants everybody to feel comfortable and she wants you to bring yourself to the table and not some vision of what you are meant to look like. That's the magic of Jane, I think."
The original role was written for an Aussie actress but Jane Campion went with 30-years old Elizabeth Moss and it's a strange choice indeed. The character of Robin Griffin undergoes the oft-clichéd journey of "self-discovery" which usually means getting naked in Campion female-centric approach. Will it be Miss Moss first nudity albeit very brief topless scene? If anyone can persuade a nudity-dodger to strip on-cam then it must be Campion.
Moss NYPost interview :


First order of business: the startlingly voluptuous photo spread she just shot for Page Six Magazine.




"People will be surprised," she laughs. "I don't walk around in a Burberry trench coat and bra all the time, but it's fun to embrace that part of yourself. I think every woman has a sexy, adventurous side."




Moss, who is off to New Zealand to star as a detective in the new Sundance Channel's miniseries Top of the Lake, confesses she's feeling a bit seductive these days.




"Sometimes you just wanna wear somethin' real tight and show it all off," she says, blue eyes twinkling. "Lately I've been in that mood."




Any reason she's feeling so...revealing?




Moss goes coy, mentioning only a fitness regime she's tackling to prep for her new role. Apparently, chasing fictional criminals around New Zealand demands a good deal more physical exertion than brainstorming slogans for Sterling Cooper.




As she gets up to leave, Moss glances back playfully, biting the tip of her tongue. "I'm probably gonna get a slap on the wrist," she says, referring to this interview. "But I've just been such a good girl. And sometimes you just want to be a bad girl for a minute."
By the way, Miss Moss is a Scientologist
___________________________________
* You gotta love the Aussies.....
Raunchy Ricki-Lee dirty dances with fans on stage
Ricki-Lee Coulter made her mark in Adelaide on Tuesday, gyrating with a fan on stage during her performance.
The pop singer was in Adelaide to kick the party off at the Australian Hotels Association SA Awards.
Her management team wouldn't comment on the duo's impromptu performance and while the AHA said they did not know who the lucky punter was, they agreed that Ricki-Lee was a great entertainer.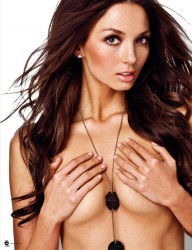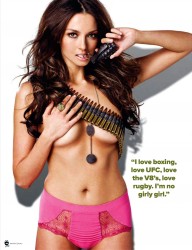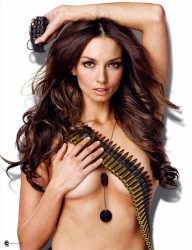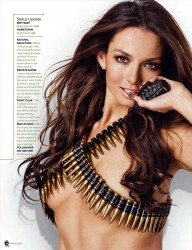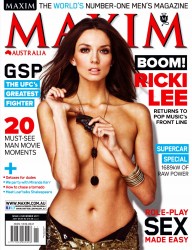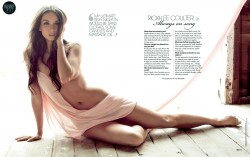 ___________________________________
Keeping in touch with Selena and co :
Spring Breakers On Set Selena Gomez, Vanessa Hudgens, Ashley Benson
Entertainment Tonight Canada visits the set of Selena Gomez, Vanessa Hudgens and Ashley Benson's new film Spring Breakers. Directed by Harmony Korine
___________________________________
'Downton Abbey' Girls Michelle Dockery And Laura Carmichael In Raunchy Gothic Photoshoot
Downton Abbey stars and on-screen sisters Michelle Dockery and Laura Carmichael have shaken off their prim and proper look in the hit ITV period-drama for a gothic transformation in LOVE magazine.
Dockery who plays Lady Mary and Carmichael who plays Lady Edith are usually seen covered-up in the finest aristocratic lace and gowns, but the raunchy Miss Havisham-esque photos below show the ladies flashing a lot more flesh.
Michelle Dockery has a radical image transformation
Downton Abbey recently became the most nominated non-American show in Emmy Awards' history, adding 16 nominations to its belt last week on top of the eleven it scored last year. Lord Julian Fellowes' show Downton Abbey about an aristocratic family and those close to them has become more than a success Stateside, it's earned honourable national treasure status.
What would Lord Grantham say, Lady Edith?


The girls, along with Jessica Brown Findlay who plays Lady Sybil, are currently filming the Christmas special ahead of series three coming to TV screens this autumn.
The photos taken by Mert Alas and Marcus Piggott were part of a shoot styled by Katie Grand, Editor-in-Chief of LOVE.
LOVE 8 'A Costume Drama' Autumn/Winter 2012 goes on sale 30 July www.thelovemagazine.co.uk
___________________________________
J. Michael Straczynski Talks

Vlad Dracula

, Studio JMS, And More!
During the chaos that was San Diego Comic-Con 2012 Geekscape staff writer Allisonnnnn got the chance to sit down with

J. Michael Straczynski. He's the

famed author, comic writer, and creator of Babylon 5.
A: On July 11th, you were announced as working on Vlad Dracula. There were no details released, so what is that going to be, exactly?
JMS: What we wanted to do with that was to mix the historical story of Vlad Dracula with the fictional Dracula of the Bram Stoker novels and, in a way, by merging the two it deepens both stories. We know from history that Vlad was with the Ottoman Empire for ten years— he had been given there as a child, as a hostage, basically, with his brother to guarantee that his father, Vlad Dracul, would never attack the Ottoman Empire, as a sort of insurance. For ten years, he was raised by the sultan of the Ottoman Empire and then came back to Wallachia at the age of 23. He was actually hailed as a hero by his people, he was revered because he helped kick the sultan out and he fought for his people in many cool ways at the beginning. Over time, though, he got more and more dark, more dangerous, and was doing more things that were inexplicable or horrific.
So we thought it'd be interesting if, to explain that transition in his character, we discovered that he was cursed and became the first real vampire. The cool thing about it in terms of what has already been done in vampire literature is that, for most stories, the whole lore of vampirism is a cliché— we know how it works. Vlad doesn't. He's the first. He has to figure it out as he goes through it. He goes to a chapel to try to pray and ask forgiveness from his god and he can't even walk in the door and he doesn't understand why his god has rejected him. When he has a problem with daylight for the first time, he doesn't understand why or what's going on. The process of figuring that out with him gives it a whole new dynamic and explains why the vampire thing works the way that it does—there's a reason for it that is explained in the storytelling. The show will track the first year or so of his rule as he's trying to hold onto the things that made him normal— his normal life, his wife, his kingdom— as this affliction gets worse and worse and drives him right down into the abyss.
A: Since you're combining the history with the Stoker novel, are you going to be setting the whole series in that older timeline, are you going to be jumping back and forth between the two stories, or are there going to be flashbacks from modern times?
JMS: In the first year, it's all going to be set in that older period, the second year we're going to move it but I can't tell you where.
A: Cliffhanger! So how are you going to be blending Stoker's Dracula into that? Just by using the same vampire mythos?
JMS: To answer that question, I'd have to tell you where the series is going. But you may see the events of Bram Stoker's book set a couple hundred years later from a different point of view, that's all I can say about it right now.
A: Are you going to be creating people that you are just for this story that didn't exist in history, or focusing more on existing characters, like his family?
JMS: There were a lot of characters that were in history that we're going to be using. His wife, Justina, and his father, but we are creating additional characters. Tamal, who was a friend of his for the ten years he was being raised by the sultan. His brother, Radu. When he and Radu were first turned over to the Ottoman Empire, Vlad resisted all Muslim influence while his brother went for it, which caused a schism between them. When Vlad came back to Wallachia to rule the country, Radu stayed behind and was somewhat scheming against his brother.
There are others where we created fictional characters in a realistic context. For instance, when Vlad came back, there was a group of guys called the Boyars who were the aristocracy in Wallachia. They were like the mob, and had killed his father. The Boyars were a tyranny throughout Wallachia, and Vlad arrested all of them, killed most of them, and then went to the average person in the street and asked them to pick the new Boyars, basically saying, "You chose who you want to help your country, you choose who you want to represent you." And this, in a way, introduced representational democracy long before anyone else was doing it. For that, for driving out the sultan, for restoring order, actually to this day makes them still consider him a hero and we want to delve into why such bright beginnings had such dark endings.
A: So how much research have you had to do for this?
JMS: A lot. I really wanted to take his background, ground it as best I could, and introduce the fictional elements to try to explain why did he did what he did. Could I stick with a historical reason or could I go with a fictional reason? Impaling people, that wasn't his idea initially. When he was with the sultan, and that's how they dealt with guys who were trouble— Vlad learned it from them. So when he starts staking people, he's sending a message back to the sultan saying, "Don't screw with me, I'll do to you what you've been doing to others."
A: Is this project something you pitched to a studio or something that was handed to you?
JMS: It was a meeting of minds— myself and Robert Tapert, who brought me on this thing. We talked about it and I developed it further and made it what it is. That's part of this thing I'm doing, Studio JMS, if you've heard about it. I announced it here at the convention.
I started my own studio. We have two series that are in development right now—Vlad Dracula and Epidemic, for Will Smith's company. I signed a deal with Image Comics to bring back Joe's Comics, and I have more comics coming out from them starting in the Spring. We're doing a web series for MTV.com and another one we're still financing. I have a movie I'm shooting in Berlin next year. So we're putting all of this under one roof now.
The funny thing about my career is that the comics fans I have don't watch my television stuff that much and my TV fans don't know about my movies or my comics. So let's get organized, get it under one roof and create a studio that is self-sufficient, not tied to a large studio. The goal of that is, essentially, to own my own stuff, produce my own stuff, and have creative control—which is everybody's dream.
A: Yeah, I noticed when I was looking into your history that you had a lot of divisions with people where you were working on a project and it was going great and they'd take it into another direction and you'd back off of it. So this is really going to help you not have to do that.
JMS: Yeah, if it's going to be a dumb studio, it should be my dumb studio.
A: Yeah, and you should be able to make your own dumb decisions.
JMS: Exactly, and I'm proud of that. [laughter]
A: So how did you get to that point? Why didn't you start a studio earlier?
JMS: I didn't have all the pieces together and I really have developed over time into the person that can do this. There are a lot of guys that have a bigger footprint in television that I have and there are people that have a bigger footprint in comics and movies than I have. But no one has all three. Joss Whedon does the occasional comic, J.J. does movies and television but not comics. So let's take this and really make something out of it. And it's only been the last year that I've really had the resources that I needed.
A: So who's in the studio with you that you've worked with?
JMS: We're just starting off, so I have Patricia Tallman who's helping me run it. She's on the acting side of things and has her own business. She has the business acumen to help me keep the thing on target, but we're just gearing up. We've got a guy we're hiring to work on the web stuff, we have another guy we're hiring to do demo reels, so we're really starting to crew up now.
A: And then you'll have a lot of support under you when you start working on all of these of projects.
JMS: Exactly. And eventually I'll be able to bring some writers on behind me. So I'll be writing just a year or two of comics and then co-write the next year or two with another writer and see where it goes from there. So eventually we'll bring in more writers, but right now it's me doing my own stuff.
A: Do you think it's going to give you more free time? It seems like you're doing so incredibly much.
JMS: I've never had free time.
A: Yeah, it didn't sound like you had.
JMS: I write ten hours a day, every day, except my birthday, New Year's Eve, and Christmas day and that won't change. It may go up an hour.
A: Ten hours a day? Some days have to be really grinding.
JMS: No, it's never a grind. It's always fun. Writing should not be homework, should not be a hassle. If it is, you're doing it wrong. It needs to be enjoyable for yourself because if you're not enjoying it, no one else is going to enjoy it.
The problem that most writers have is that they can't get out of their own way and they try to force it to happen and if you try to force it to happen, if doesn't work. The secret to writing, well, imagine your best friend for a second. You're walking across the living room and all of the lights are off. And they bang their shin on the coffee table. You know your friend, you know exactly what your friend's going to say when that happens. You don't have to think about it, chew on it, worry about it. You just know. Writing should be no different. You should know the character well enough that you just sit back, drop them into a situation, and write down what they do. That's how I work.
A: Is there any part of a story in its development that is harder for you?
JMS: Initially the research is the hardest part. And then you get going and at a certain point, the characters start talking to you and they won't shut up. That's when I know I've got it. And I try to avoid writing it as long as I can to let the pressure build up so all the scenes are there in my head and the characters are talking to each other and I run to the keyboard to get it down.
A: You're not worried that, while you're letting that pressure build up, you'll forget parts of it?
JMS: For some reason I have a fairly good steel trap when it comes to dialogue. I can hold every line of a screenplay in my head and all the scenes until it's really there. I write as fast as I type and I can type 120 word per minute, so I get it done pretty fast.
A: Apparently. [laughter]
JMS: I've never not enjoyed the process. I'm the luckiest guy in the world. I get up every day and I get to do what I love for a living. How great is that?
You can check out Studio JMS at StudioJMS.com, like them on Facebook, or follow them on Twitter: @Studio_JMS.
___________________________________
spicy Latina Génesis Rodríguez Pérez slowly but surely on her way to stardom....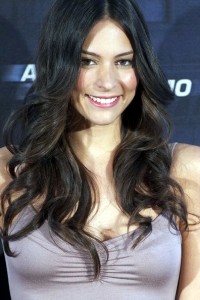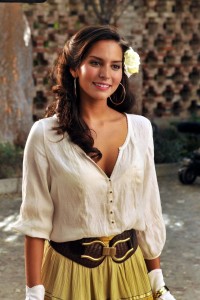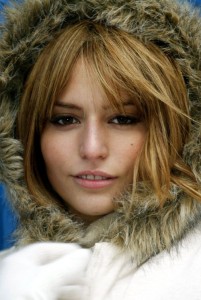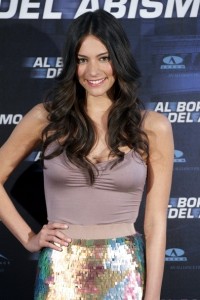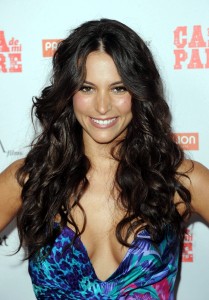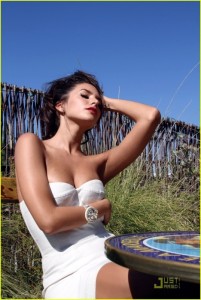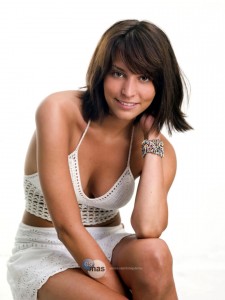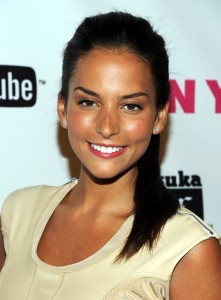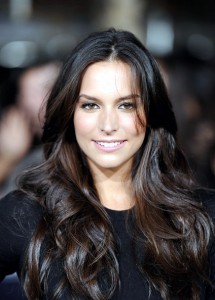 * She plays FBI Agent Ellen Richards in
Arnold Schwarzenegger
's
The Last Stand(2013)
. Kidnapped by baddie
Eduardo Noriega
and forced to suffer some 'indignities' at the hands of the monster. The script has undergone numerous rewrites in order to change the ending and insert some over the top violence. Both
Génesis Rodríguez
and
Jaimie Alexander
originally auditioned for the role of Sarah Torrance but the former agreed to accept the part of Ellen after discussions with the director and Arnold. Some will say it's a surprising decision considering the violent and sexual abuse perpetrated on the character by Noriega's Gabriel Cortez.
___________________________________
Miss Teen USA 2012 contestants
* Maybe I haven't mentioned it before but I do have a fetish for beauty pageants and participants.
___________________________________
Strip clubs to look for dancers in Toronto school
TORONTO -
Recruiters of teenage strippers may soon be scouring Toronto high schools in search of female students who can be groomed into disrobing part-time as exotic dancers to earn college tuition.
A flyer praising the benefits of the burlesque trade has been put together to target students in high schools, colleges and universities in the Toronto-area, says a group representing dancers and club owners.
The brochure claims working as a dancer pays well, offers flexible hours and makes a "great part-time job to raise college tuition."
A scramble is underway by the Adult Entertainment Association of Canada to fill a demand for dancers after Ottawa this month stopped issuing visas or extensions for foreign strippers to work here. There are up to 800 foreign strippers in Canada and most vow to go underground and work in the sex trade if they can't dance legally.
The foreign dancers, many who are from Eastern Europe and South America, represent about 5% of the 38,000 strippers working in clubs across Canada. Most of them dance in Toronto, Windsor, London, Montreal, Ottawa, Winnipeg and Calgary.
Caroline, 28, and Nicola, 25, have been dancing in a downtown Toronto club for more than a year and have tasted the good life and now don't want to return to their native Hungary.
"We are not happy that visas are no longer being issued to us," Caroline said. "I am very disappointed and afraid of what may happen to me in the future."
The women say they work long hours and send most of their earnings back home to their families.
"We did not do anything wrong in Canada," she said. "They should not be sending us back home."
Nicola said she's stressed out and hasn't been able to eat since hearing news of the visa revocation.
"My visa is almost expired and I am very scared," she said. "I am very shattered that I may no longer be able to work and help my family back home."
The association said the visa ban that began July 14 means more Canadian women have to be hired to meet a demand. The new rules will prevent strip clubs, escort services and massage parlours from having access to foreign women.
"They're destroying the industry by creating a labour shortage," said association director Tim Lambrinos. "The word exotic means foreign, and that's what people want to see."
The association has created a "six-point action plan" to help keep the dancers in Canada. The plan includes more recruitment of women in high schools and colleges, lobbying the government for changes, and if all else fails, the strippers plan to file refugee claims or marry Canadian citizens to sponsor them.
Lambrinos says girls 18 and older can work as dancers in Ontario according to advice from their lawyers.
He said recruiters from strip clubs will try to attract students by attending job fairs at high schools, colleges and universities in Toronto and surrounding areas.
"We are already doing some outreach work in some areas," Lambrinos said. "We will be taking a strippers' dance pole with us to the schools."
He says overcrowded Toronto high schools can become a prime recruiting ground for potential dancers.
The Toronto Sun has obtained a draft copy of the flyer to be circulated to high school students. It advises them that they can earn tuition fees while working as an "exotic dance entertainer" and that no sex with customers is permitted.
"If you are visually appealing and comfortable with your naked body and are comfortable about taking all your clothes off," the flyer states. "You can be working right now as an exotic dancer and earn your tuition fees for university or college."
Students are told they must be "comfortable...onstage at a club and disrobing" and are guaranteed that "no actual sex or sex acts (will) occur."
It warns them that they will have to provide private dances, or table dances, in dark lounge areas and part-time, full-time or seasonal jobs are available.
Officials of the Toronto District School Board did not return phone calls or e-mails about the proposal despite repeated attempts by the Sun. Several high school students said they did not like the idea of strippers being recruited from their peers.
Foreign dancers say they're willing to get married to a Canadian citizen or file refugee claims to stay here.
Plans are in place to seek Canadian men to marry some of the strippers whose visas are on the verge of expiry, which will force them to go underground and into the hands of organized crime to work in the sex trade.
Lambrinos said photographs and descriptions of some the dancers will be posted on the Internet and newspaper ads with text seeking Canadian husbands. Potential hubbies will have to be citizens and not have a criminal record.
"This is very urgent for some of the dancers whose visas are nearing expiry," Lambrinos said. "Every potential sponsor will be looked at and the girls will make a decision on who they want to marry."
There will be a phone number and e-mails for the potential husbands to contact their brides.
Officials of the Canada Border Services Agency said the scheme can be considered a marriage of convenience since there is no history of courtship between the couple. If approved, the sponsor will be responsible for his wife for about 10 years in Canada.
"We're trying to do all we can to keep the dancers here," Lambrinos said. "The girls themselves have said they are not going back home."
He said another plan will have the strippers file claims for refugee status, and there is no guarantee that they will be accepted.
Immigration officials said filing a claim will allow the women to remain here for more than a year as they challenge the case but eventuality they will have to leave.
The controversial "stripper visa" dates back to 1998 and allowed hundreds of foreign dancers into the country each year. In 2001 for example, 660 foreign dancers, mostly from eastern Europe, were admitted.
All they had to do was provide a Canadian job offer from a strip club and prove they were qualified to 'dance.'
Roughly 100 of the visas have been renewed each year since 2006.
Support for the program has plummeted ever since MP Judy Sgro, a former Liberal immigration minister, resigned in 2000 after facing accusations that she fast-tracked a stripper who worked on her campaign — a scandal dubbed "Strippergate."
___________________________________
Sex for 'A' grade NUS law prof arrested
A law professor from the National University of Singapore (NUS) is under investigation for allegedly giving out a good grade in exchange for sex, The New Paper reported on Wednesday, July 25. According to the paper, it is the first case of its kind in Singapore.
Associate Professor Tey Tsun Hang, 41, was called up together with several other colleagues by the Corrupt Practices Investigations Bureau (CPIB) in April and was subsequently placed under arrest. A fellow colleague had bailed him out, reported The New Paper.
The Straits Times reported that someone had alerted CPIB in April, leading to the investigations.
The 23-year-old fourth-year law student, who has since graduated, is currently a pupil in a local law firm.
She has been described by her friends as a lively and ambitious person. She had told some friends about the incident believing that it had blown over.
Last year, when she was still in university, she had approached Prof Tey for a better grade.
The students who spoke to The New Paper said that in order to be hired by one of the top four law firms in Singapore, a student has to graduate with at least a second uppers honours.
In order to get an 'A' grade for the elective, the student had struck a deal to have sex with the professor, the daily reported.
Criminal lawyer Ravinderpal Singh told the paper that the prosecution count one charge for every time that the professor had sex with the student even if she had only received one 'A' grade from him.
Their arrangement was not a one-off and she had sex with him on several occasions.
According to the lawyers who commented on the case, corruption is not limited to monetary benefits and can be in the form of sex and gifts.
NUS and CPIB have declined to comment as it is an ongoing case.
The university told the paper that they are aware that there is an ongoing investigation regarding one of their staff members and they are cooperating with the authorities.
One professor, who declined to be named, told The Straits Times that the alleged deal was 'unthinkable'.
"This is a huge bombshell to everyone here - it took everyone by surprise as they could not believe something like this had taken place," he said.
Faculty members said Prof Tey has not been suspended and will be on sabbatical when the academic year starts next month. This had been planned since last year and was not a result of investigations, said The Straits Times. They added there have been no complaints against him before.
Prof Tey had been practising in a top law firm for several years after having graduated from King's College London and St Hugh's College, Oxford. He was an assistant professor at NUS' law faculty before joining the legal service as a Justice's Law Clerk, said The Straits Times.
He was later appointed a district judge of the Subordinate Courts and became a state counsel with the Attorney-General's Chambers' legislation division before switching to a teaching career in the 1990s.
He was described by NUS law students whom The Straits Times spoke to as "intelligent" and "someone who livened up classes".
The Straits Times visited Prof Tey's home but no one opened the door. Neighbours told the newspaper that he is married to a Japanese woman and they have a teenage daughter.
___________________________________
When you find love, fight for it and never ever let it go............
___________________________________
Can The Poor Be Trusted With Your Tax Dollars?
The best dressed girl in my school never wore the same outfit twice. "Jane" (not her real name) was one of those girls who always looked put together from head to toe. I would stare at her, dressed in my clearance rack clothes from Roses or – more devastating, the occasional hand-me-downs from my older brother (who was nearly a foot taller and many, many pounds lighter) – and wish that I could be more like her. I just knew that my life would be so much better if only I could wear Nike court shoes and striped Jordache jeans.
Jane also got to buy her lunch at school. That was the pinnacle of coolness – even better than color-coordinated ribbon braided barrettes. I, on the other hand, munched through my bologna sandwiches on bread from the day-old bread store and grumbled.
One day, in a moment of weakness, my mom ponied up the 75 cents that would allow me to get lunch at school. Fried "chicken" (yes, in quotes as I have no proof it was actually chicken) sandwiches on white bread, apple-like sauce and tater tots together with fruit punch. This was living! As I waited in line, quarters in hand, trying to act like all of the other cool kids, I saw Jane get her lunch – and not pay for it. It turns out that Jane qualified for free lunch. She was *gasp* poor. This couldn't be. She had trendy clothes and jelly shoes and hair bands that had sparkles. I was convinced that something was very wrong.
Over dinner, with Tom Brokaw reporting in the background (that dreamy Tom Brokaw was always on the stereo at dinner), I relayed the real news of the day to my mom: Jane was cheating the system. She, of the fancy clothes and perfectly coiffed hair, was getting free lunch. It was not, I declared firmly, fair. I paused, waiting for my mom to do something dramatic like run to the phone to call the governor and report this crazy injustice. Instead, my mom put down her fork, reached for her tea and said, very calmly, "Kelly, honey, you don't know that their family doesn't eat a can of beans for dinner every night."
I was stunned. Stunned. As I put another forkful of some delicious something or other than my mom had cooked (my mom cooked us a full meal every night which might explain the few extra pounds) in my mouth, I searched for some clever response. I was convinced that she had to be cheating. So I said the smartest thing I could think of, "But Mom…"
She looked straight at me and said, "Kelly, you don't know how other people spend their money. And it's none of your business."
And she was right.
A few months later, I was in the car on my way to a friend's house. I saw Jane in front of her house. It was a rundown shack by the highway. And I mean shack. Maybe the size of my living room. She had a number of brothers and sisters who lived with her and I couldn't imagine how they all fit. I stared out of my window and thought back to her clothes. None of it made any sense to me.
As a grown up, I've come to understand a thing or two about priorities and appearances. It's so easy to make assumptions about people and how they spend their money. I grew up in a family that had to watch their pennies so I used to think that ordering an appetizer meant that you had loads of money and that only rich people traveled by airplane. Years later, I sat in a cushy chair in my boss' office watching a widow who had lived meagerly in a small apartment find out that her husband had $3 million in the bank. Her reaction, as she teared up at age 87, "I never got to go to Paris."
The truth is, we don't really know how people spend their money. And that includes government money. But as wallets grow increasingly tight in a tough economy, taxpayers are demanding more and more control over where their dollars go – and that includes people on public assistance.
There are already numerous restrictions on what you can buy using food stamps – funded with federal dollars – through the Supplemental Needs Assistance Program (SNAP). Under current rules, you can't use food stamps to buy beer, wine, liquor, cigarettes or tobacco, pet food, household supplies (including soap and paper products), vitamins, medicines, hot foods or prepared foods (eat in).
Other federal dollars are used to fund Women Infants and Children (WIC) programs for new mothers who meet certain income guidelines. That program is also restricted by type of grocery item. You're not allowed, for example, to buy imported cheese, fruit drinks (that aren't 100% juice) or soda. Also on the "banned" list for fruits and vegetables if using cash-value vouchers: white potatoes, catsup or other condiments, olives and peanuts.
Another federal program, Temporary Assistance for Needy Families (TANF), is designed to help move recipients into work and turn welfare into a program of temporary assistance; this is the program that most people think of when they think of "welfare" since the program provides cash assistance directly to families. States set their own eligibility requirements for the program though the funding and the overall management comes from Washington. In February, President Obama signed into law a provision that would bar welfare recipients from using cash assistance cards (in the form of debit-like cards) in strip clubs, liquor stores and casinos. But many taxpayers want more restrictions and states across the country are considering measures that would go even further.
About half of all states have legislation or are considering legislation that would restrict the ability of welfare recipients to use these cards for certain transactions. Some of the targets: casinos, piercings, alcohol and tattoos.
In Colorado and Indiana, rules are in place that bar the purchase of alcohol and guns using welfare cards. Meh. Maybe that makes sense. I guess we don't want a drunk, gun-toting welfare recipient wandering the streets of Muncie.
Other states are considering similar rules. In Massachusetts – and my own state of Pennsylvania – proposals are being floated to ban the use of welfare cards to such wide ranging items as tattoos, pornography, guns, jewelry and nail services (for the record, all legal if you pay cash). Already a no-no? Lottery tickets, tobacco and alcohol (also legal). Copycat legislation is being discussed across the country.
The most controversial of the plans are those that seek to ban the withdrawal of cash with the card at certain locations like nail salons and tattoo parlors. Restrictions now exist that ban withdrawals in casinos, strip clubs and liquor stores. Without evidence that the recipient intends to use the card at the location, is this perhaps going a little too far? Realistically, ATM machines are located where it's convenient for businesses. That doesn't equate to spending by a customer. When I was in Vegas, I withdrew $200 from a casino ATM. I gambled at the quarter slots and used $1. No, not a typo. $1. I'm not a gambler (I have miserable luck). But I did need cab fare and money for lunch. And in Vegas, you can't sneeze without finding a cash machine inside a casino. Bingo (pardon the pun).
I get that there's abuse in the system. But I'm not sure that playing Big Brother in such a dramatic fashion is justified. If you qualify for public assistance – and you play fair – should I, as a taxpayer, be allowed to tell you how you can spend your money and where you're allowed to make withdrawals? And who decides what's allowable? No to alcohol but yes to soda? No to porn magazines but okay for US Weekly? No to cigarettes but okay for candy bars?
And how far are we willing to go to make sure these rules are enforced? Home audits? Requiring banks and third party merchants to create ATM machines that spit out welfare cards installed at certain places? Requiring store clerks to ask at stores what the money will be used for?
If you're sick or unemployed and you want to use your money on doughnuts instead of blueberries, I'm not sure it's my place to tell you different. But that doesn't seem to be the sentiment right now.
I don't want anyone wasting my tax dollars any more than you do. But I also don't think it's fair to assume that welfare recipients are always going to make the wrong choices. Maybe it seems incongruent to be using welfare dollars for junk food or to get your nails done. But we don't know what goes on behind closed doors. And I don't know that it's any of our business.
I think back to Jane and how her family spent her money. I wanted to be mad – really mad – about it but in the end, my mom was right. She often is.
___________________________________
You have read this article Ashley Hinshaw / Elizabeth Moss / Génesis Rodríguez / Selena Gomez / Vlad Dracula with the title stars, sex and nudity buzz : 07/26/2012. You can bookmark this page URL http://renelyons.blogspot.com/2012/07/stars-sex-and-nudity-buzz-07262012.html. Thanks!