Dreama Walker

topless in Compliance
____________________________________
Is Kristen Stewart Breaking Up with Robert Pattinson, or the Twilight Phenomenon, or Both?
I should admit up front that I've long been skeptical of Kristen Stewart and Robert Pattinson's off-screen romance. They make a beautiful couple, as the Twilight franchise box-office numbers demonstrate, but, if you ask me, their real-life relationship has always had an odor of Hollywood hoodoo — the inspired idea of some marketing or public-relations executive who saw a way to keep fan interest in the blockbuster saga alive between movies.
Then again, a slew of respectable publications and websites are telling me it's real, and so who am I to disagree? People.com reported today, for instance, that a "heartbroken and angry" Pattinson had moved out of the Los Angeles home that he shared with Stewart, despite her head-turning public apology for cheating on him by making out in a car with married Snow White and the Huntsman director Rupert Sanders.
The whole episode and the media frenzy it has provoked brings out the armchair analyst in me (I do have a Bachelors in psychology, by the way) and, whether I look at this from the perspective of a couples counselor or a cultural critic, I can't help but think that Stewart — subconsciously or consciously — is telling us that she doesn't want us to think of her as Bella anymore.
Although she seems to have become better adjusted to being in the spotlight recently, Stewart has never appeared comfortable with the insane kind of fame that the Twilight movies brought her. (Indeed, the last time she had to issue an apology was when she compared the paparazzi's photographing of her to being raped.)
I've never met her, but I wonder if that discomfort has to do with her self-image as an actress instead of teen idol movie star. Stewart's excellent performances in Into the Wild and the extremely underrated Adventureland tell me that she has Oscar potential. (I also thought she did Joan Jett justice in The Runaways.) With the right roles, she could be her generation's Jodie Foster. But at the moment, she's got to feel more like Mark Hamill.
Stewart's headlines-making cheating episode reminds me of the furor that erupted in 2008 when Vanity Fair published a tastefully topless photo of Miley Cyrus in the magazine. Like Stewart, Cyrus apologized for the incident saying she was "embarrassed" by the photo.
But the episode was really a smart bit of positioning on Cyrus' part: the image sent the message that Cyrus was leaving the adolescent world of Hannah Montana behind.
Intentionally or impulsively, Stewart has sent a similar message to the millions of Twi-hards out their who breathlessly monitor her every move. Bella, and maybe Robsten too are history. As one friend told People: "I'm not sure they'll be able to recover from this." I bet that friend is right.
Sometimes you have to break a few hearts to get what you want. Even when those hearts belong to your biggest fans.
* For the first time I feel sorry for dead-fish eyes Kristine. She can't even suck a guy cock without the paparazzo intruding on her 24/7. Frankly I'm not amazed she cheated on Pattinson. Probably got bored with his brooding silence BS and preferred someone much older and chattier like Rupert.
All you need to know about the Kristen Stewart affair that destroyed everyone
____________________________________
Lady Gaga posts naked photo, Lindsay Lohan shots AND announces Machete role
____________________________________
Hot Trailer: 'Chasing Mavericks'
Directed by Curtis Hanson with a little help from Michael Apted, 20th Century Fox's Chasing Mavericks stars Jonnny Weston as legendary boardman Jay Morarity and Gerard Butler as the veteran who taught the young surfer to master the massive waves at Mavericks in Northern California. Elizabeth Shue, Abigail Spencer, and Levin Rambin also star in the October 26, 2012 release.
* I'll watched anything if Miss Rambin is in it...........
____________________________________
____________________________________
____________________________________
Chopra reportedly asked Playboy in writing if she could appear in the magazine, and it responded in the affirmative immediately.
"It is not an easy task to be nude in front of the camera and look good at the same time," she told BBC.
"I have become the first Indian to pose naked for Playboy, and nobody can take away that achievement from me."
She added that she could not "miss the opportunity of posing nude for the world's most established adult magazine."
"My sister is proud of my achievement. I haven't told anything to my mother, but I think I will visit her and tell her that she has to accept me the way I am," Chopra, 28, added.
India has an extremely conservative attitude toward pornography and nudity -- indeed, kissing is banned from Bollywood films, while couples who show affection in public are largely scorned and sometimes even spat upon and attacked.
Pornography is also illegal, although it is available on the Internet and other venues (Playboy is itself banned in the country).
Chopra's appearance in the flesh in a foreign smut magazine has not elicited the kind of derision it would if she were a major star; rather, she is a D-list actress who has appeared on Indian reality TV shows, hardly a Bollywood queen. Indeed, she has been shamelessly promoting nude photos of herself on her Twitter account for at least the past two years.
Nonetheless, the criticism she has received underscores a basic hypocrisy of Indian society -- sex is hidden in a culture awash in sensuality and linked closely with spirituality.
Ancient Hindu temples featured explicit depictions of deities and people having sex, particularly the carvings and statues in Khajuraho. In Hindu temples in southern India, young girls were frequently recruited to serve as prostitutes for devotees.
India is also the land of "Kama Sutra," the massive ancient Sanskrit text on sexual pleasure and one of the most explicit and detailed documents on human sexuality ever produced.
If "Kama Sutra" were released now, the authorities in India would no doubt ban it.
____________________________________
Before Kate Upton.......there was
Brooklyn Decker
.......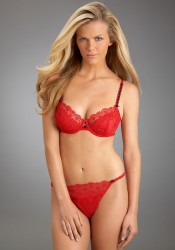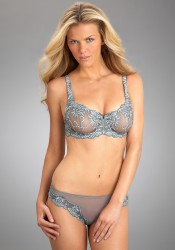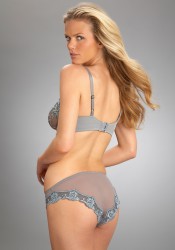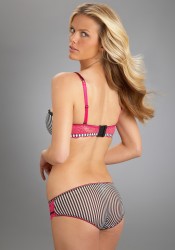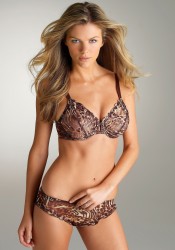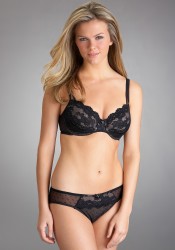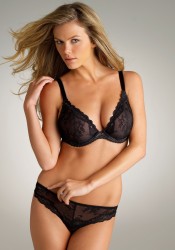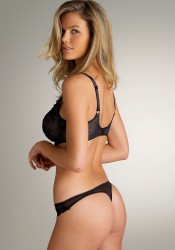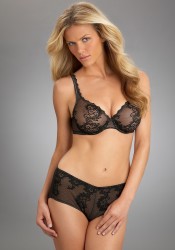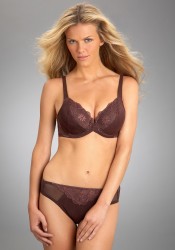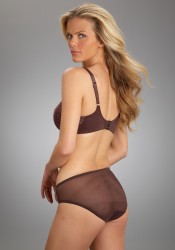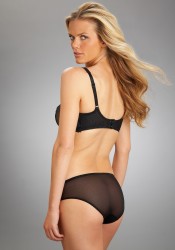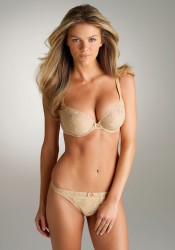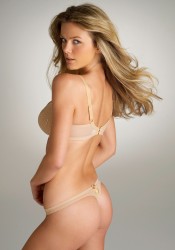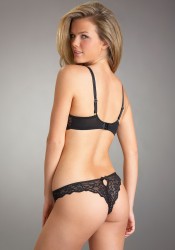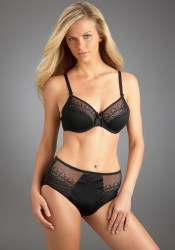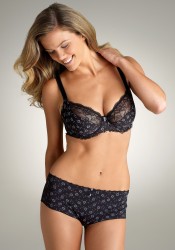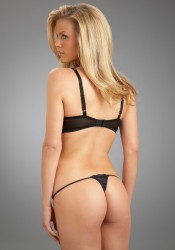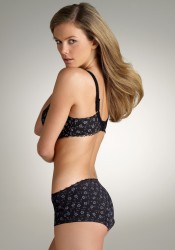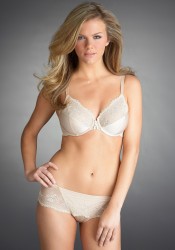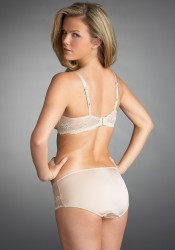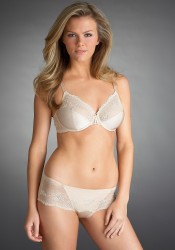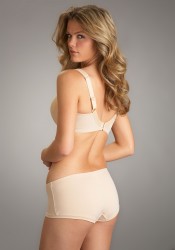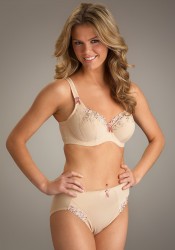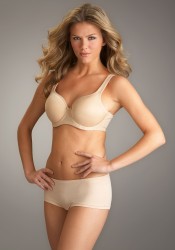 ____________________________________
____________________________________
We need really smart Miss USA contestants...
California, Delaware, Massachusetts, Nevada, New Mexico, Vermont are the only ones that didn't appear to mention "both sides" as if creationism is a scientific theory.
I want to know how the hell some of these girls said No. I wanted to smack Wisconsin (we're supposed to be smarter than that, stupid!), but I was rolling at ALL THE SOUTHERN STATES not mentioned above, especially Utah (live here, and she just reminds me of 90% of the females I encounter on a daily basis: vapid air-headed breeders.)
Comment of the Day : I'd like to fuck their brains out but I guess I'm too late.
Here's the parody for some lulz:
____________________________________
METHODOLOGY: Images of average, fully clothed individuals (read: no supermodels in bikinis) were quickly flashed before the eyes of participants. After each one, the participants would then be shown two side-by-side images that zoomed in on one, "sexual" aspect of the individual (for example, a woman's midriff) and asked to identify the version that hadn't been modified. The experiment was also reversed, so that participants first looked at a specific part and then had to identify it in the context of an entire body. The test was designed to clue researchers in on whether the participants were using global or local cognitive processing while looking at the images -- in other words, whether they perceived the individuals as a whole or as an assemblage of their various parts.
RESULTS: Regardless of gender, participants consistently recognized women's sexual body parts more easily when presented in isolation. Men's sexual body parts, on the other hand, were more memorable as part of their entire bodies.
CONCLUSION: The cognitive process behind our perception of objects is the same that we use when looking at women, and both genders are guilty of taking in the parts instead of the whole. When we look at men, we use global processing to see them more fully as people.
The full study,"Seeing women as objects: The sexual body part recognition bias," is published in the European Journal of Social Psychology .
____________________________________
Amber Heard

:

by Ellen von Unwerth [Guess Summer] 2012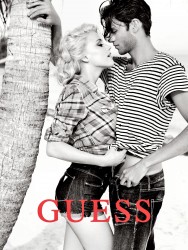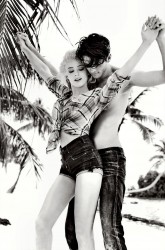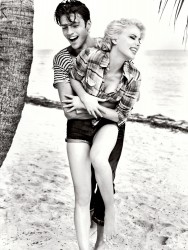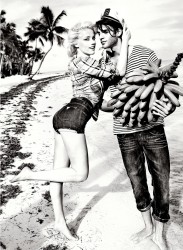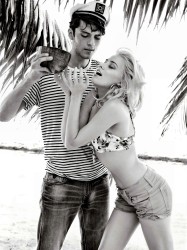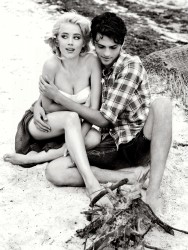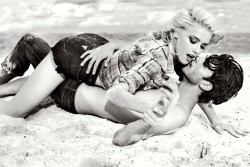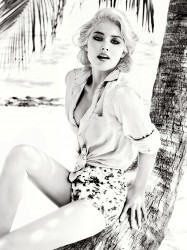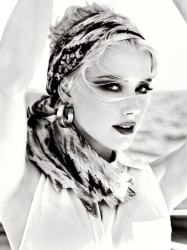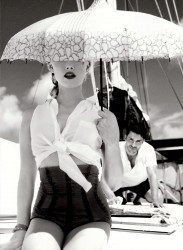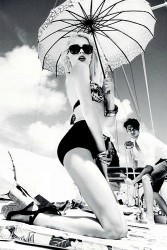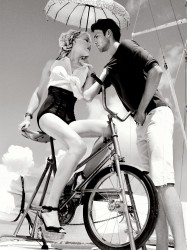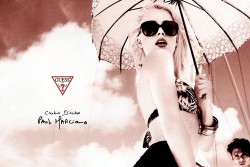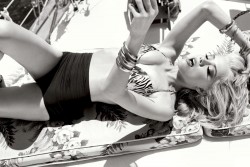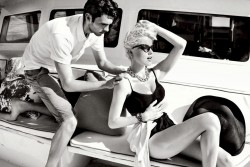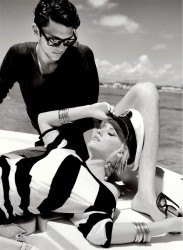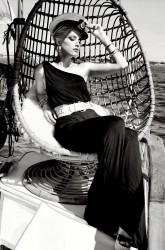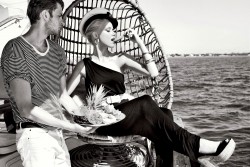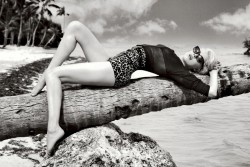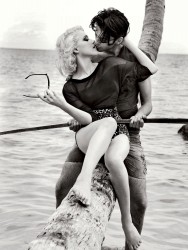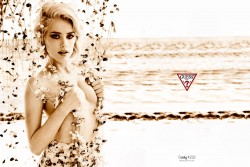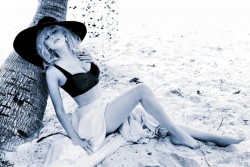 ____________________________________
MALACCA - Images of nude bodies and African men participating in a sex orgy with a woman have lured at least 21 gullible victims to the foreigners' social network site and seduced them into parting with more than RM400,000 (S$163,760) since Ja­­nuary.
Most of the victims were students although there were also a 60-year-old businesswoman and professionals like lawyers and lecturers.
Following a tip-off, seven Nigerians and the woman were arrested at an apartment in Bachang near here in a 1am raid yesterday.
They have been remanded until Aug 8 for questioning under Section 420 of the Penal Code, for cheating and dishonestly inducing delivery of property.
Malacca commercial crime department chief Supt Soh Hock Sing said the syndicate enticed victims with expensive gifts from overseas and asked them to deposit money to purportedly set up a joint business or settle some so-called Customs excise duties to release the gifts.
Supt Soh said the group took advantage of lonely women who spent hours chatting on social media sites, including Facebook, and used romantic phrases to draw them into parting with their money.
Four of the men are students of a private college in Kuala Lumpur while three others have invalid travel documents.
The Nigerians are aged between 23 and 33 while their woman accomplice is 23.
Supt Soh said 21 victims had lodged police reports; 17 from the Melaka Tengah district, three from Alor Gajah and one from Jasin.
"We are working with the college, including tracing e-mails sent through laptops, to see if there are victims who have not lodged police reports," he said.
Supt Soh said the police seized several electronic gadgets, ATM cards, laptops and pen-drives installed with romantic poetry in the raid.
"We found smut material stored in the laptops and handphones that we believe were used to lure victims," he said, adding that police be­­lieved they had crippled a major Ni­­gerian Casanova racket in the state.
Separately, he cautioned companies about a syndicate that altered the names of cheque recipients.
He said the syndicate which begun operating early this year, would use a special chemical to erase printed details of the actual recipients and replace with the names of their ring members.
Supt Soh said police found out about the racket following the arrest of a 32-year-old man on Wednesday.
The suspect had attempted to depo­sit a cheque amounting to RM265,000 issued by a food manufacturer here and bank officers, suspecting something amiss, alerted the police.
Supt Soh said the police re­ceived three reports on the racket so far.
____________________________________
Beauty brings ethnic horn to Miss World 2012
Representing Vietnam at Miss World 2012, Hoang My, Miss Vietnam 2010's runner-up, will bring an ethnic horn presented by K'Tham, a village patriarch from the K'Ho ethnic group, as a gift to a charity auction.
According to new requirements from the organizers, all beauty pageant participants have to prepare gifts which are of good quality and hold meaning to auction at a gala dinner where proceeds will go to poor children.
Besides this special horn, the 24-year old is bringing three stones, symbolizing the northern, central and southern regions of Vietnam as presented by Viet Hoang Jewelry. They include the Trong Mai (husband and wife) stone from the north, fossil stone from rocky mountains in the center and Phu Tu (father and child) stone from the south. The stories and legends will be written in a note attached to these stones, which will be displayed at the World Rock Garden.
For the requirement of an image of a flower or plant representing the country, Hoang My carries with her a portrait made from rice of a beautiful lotus by the Quynh Vy painting company, in order to introduce traditional Vietnamese handicrafts, as well as the national flower.
In addition to the painting, My is bringing a photo of a terraced rice field taken in Northwestern Vietnam by photographer Dang Minh Tung.
Last but not least, she will also donate a National Geographic book on Vietnam to the Miss World library. She expects those who read the book to see beautiful scenery in Vietnam, understand more about the culture and life of the country, and fall in love with this peaceful, friendly and hospitable land.
These gifts will represent a beautiful and peaceful country with full potential to keep pace with the world, as My had previously said in her introduction video.
Hoang My has been praised for her mix of Western and Eastern charm, intelligence, and good command of English. Last September she was the Vietnamese representative at the Miss Universe beauty pageant held in Sao Paulo, Brazil. Though My didn't win any top prizes at the pageant, she attracted the attention of the local media not only for her beauty but also for her outstanding fashion styles.
On July 18 My departed for Miss World 2012, which is ebing held in China from July 18- August 18.
____________________________________
Erotica is experiencing a very big comeback. What does this mean for Christians?
I knew there wouldn't be a second date the moment the guy asked this question:
"How do you feel about strip clubs?"
Not for 'em, I said.
"What about porn?"
Are you kidding?
In the conversation that followed, I rebutted his defenses of both. He, a Christian (nominally, at least), was a consumer of erotic media, convinced that using it can be good. He is the only Christian I've met who has defended pornography. But he is not the only Christian who defends other kinds of erotic media.
When a bestselling erotic novel and a movie about male strippers simultaneously swept the female half of the U.S. in recent weeks, Christian women spoke up. Some criticized the book because it promotes lust. Some criticized the movie because it promotes the objectification of men. Others criticized the critics.
Popular erotic media is good, proponents said, if it can sexually excite a couple whose sexual relationship otherwise would be lacking.
It is good, one woman wrote in a blog comment, because "giggling over guys in thongs gets women to talk about what they like and don't" in sex.
What erotic media does for sexless marriages and sexually frustrated women is important, some said. One said if erotic media objectifies people, it's only a problem when women and men are unequally objectified. That erotic media designed for women validates female sexuality in a world that rarely does. That it acknowledges the existence of desire where the church often has denied it. That as such, erotic media can be a powerful weapon in the war against sexual oppression.
This week, the fanfare that sparked the fight for erotic media has faded. In its wake, I am left with a realization: That there are followers of Christ among the women who latch on to erotic media is, indeed, indicative of the existence of a need.
So I understand why, when erotic media inspires sex in a marriage, Christians use it. I understand why, when erotic media is a catalyst for important sex conversations, Christians defend it. But since when does what a person uses to meet a need necessarily equate to what a person actually needs?
The reason a marriage is sexless or women are sexually frustrated is complex, but a marriage has never been sexless because it hasn't had enough exposure to erotic media. A woman has never been sexually frustrated because what she really needs is to be part of a culture in which women and men are objectified the same amount. And when the body of Christ consumes erotic media and praises it for what it does for sex and sexuality in Christian marriages, it really isn't alleviating the problem. It is perpetuating a problem that underlies it:
In the realms of love, marriage and sex, the church has dropped the ball.
I know this because of how rare it is for people in the church to talk about love like it's any deeper than sentiment, attraction or infatuation. Because few and far between are the folks who, like Pope John Paul II, remind the world that love is "the authentic commitment of the free will of one person, resulting from the truth about another person." We are hard pressed to hear sermons or read books that say marriage is designed to result, in part, in the destruction of self absorption. And the church neither commonly nor clearly communicates what should be a cornerstone of any Christian sex talk:
There are two kinds of sex.
One kind of sex is the world's version. Its primary purpose is pleasure, and it is often utilitarian in practice ("I'll use you, you'll use me, and it is good as long as both of us enjoy it."). The other kind of sex is sex as it was designed to be, which has a twofold purpose: procreation and unity. It involves the creation of a unique, pleasurable sexual relationship between a wife and a husband.
But the church says sign this pledge, wear this ring and save sex for marriage. Then the church mostly stops talking about sex. And when the church doesn't talk about sex and a kid's parents don't talk about it, either, the only concept of sex he or she grows up with comes from what he or she has seen on TV and in movies. But TV and movie sex is, at least in all my encounters with it, the world's version of sex. And when the church doesn't differentiate between that kind of sex and sex as it was designed, the results can be catastrophic.
"Saving sex for marriage" becomes "waiting until marriage to objectify my partner."
Wedding nights are confusing or traumatic when what happens in bed neither looks nor feels as good as TV and movies imply it should.
The church divides again when one set of Christians rejects the only kind of sex the other set of Christians knows exists. And because the use of erotic media aligns nicely with the one kind of sex they know, to reject erotic media, to them, is both to reject sex and to be complicit in the oppression of sexuality.
But is it really? I don't think so.
Because erotic media perpetuates the objectification of humans, the rejection of love as selfless and the promotion of sex as recreation. Objectification, selfish "love" and recreational sex are misuses of human sexuality. And when we are able to think a misuse of sexuality is ok, we might just be oppressing ourselves.
____________________________________